Four weeks to go, two major events, one big day
There are only four weeks left until the biggest and most significant day in the project management calendar. Make sure you dont miss out by booking a place at the APM Project Management Conference, as well as joining in the celebrations at the Oscars of your profession - the APM Awards, hosted by TV presenter and award-winning journalist Angela Rippon.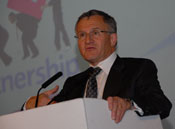 If you want to get an idea of what the day holds then watch the key moments from last years APM Conference and awards dinner. The above video showcases some of the countrys most senior and influential speakers who have featured in the programme at the APM Conference, which boasts more than a half a decade of agenda setting content featuring the countrys most innovative and groundbreaking projects. Previous keynote speakers include Sir Peter Gershon KBE (pictured right), Nigel Smith and Sir David Normington.
The conference theme for this year is new world, new project management which looks at how the profession will rise to the challenges of the new world - climate change, technological advances, globalisation, social networks, public health, security and economic regeneration and growth. The challenges require fundamentally new ways of making sense and shaping a world we neither control, nor fully understand. The speaker line-up includes key industry figures such as: Professor Eddie Obeng, Learning Director at Pentacle; Michel Thiry, Managing Partner at Valense Ltd; Jeremy Beeton, Director General of the Government Olympic Executive; Tim Banfield, Director at the National Audit Office; plus many more.
The video also features all the glitz and glamour that is associated with the most prestigious night in the professional calendar. Following on in the evening is the APM Awards dinner, which has been celebrating achievement in project management for over 16 years. The spectacular London setting of the Brewery makes for an entertaining evening of celebration and the broad range of categories to be awarded on the night include Project Manager of the Year, Programme of the Year, Overseas Project of the Year, Community Project of the Year and Project Management Company of the Year.