Future of Project Management (FoPM) publication launch
On 28th April we will be launching our latest Foresight publication, Future of Project Management. We would be delighted if you could join us to hear from the book's authors and cha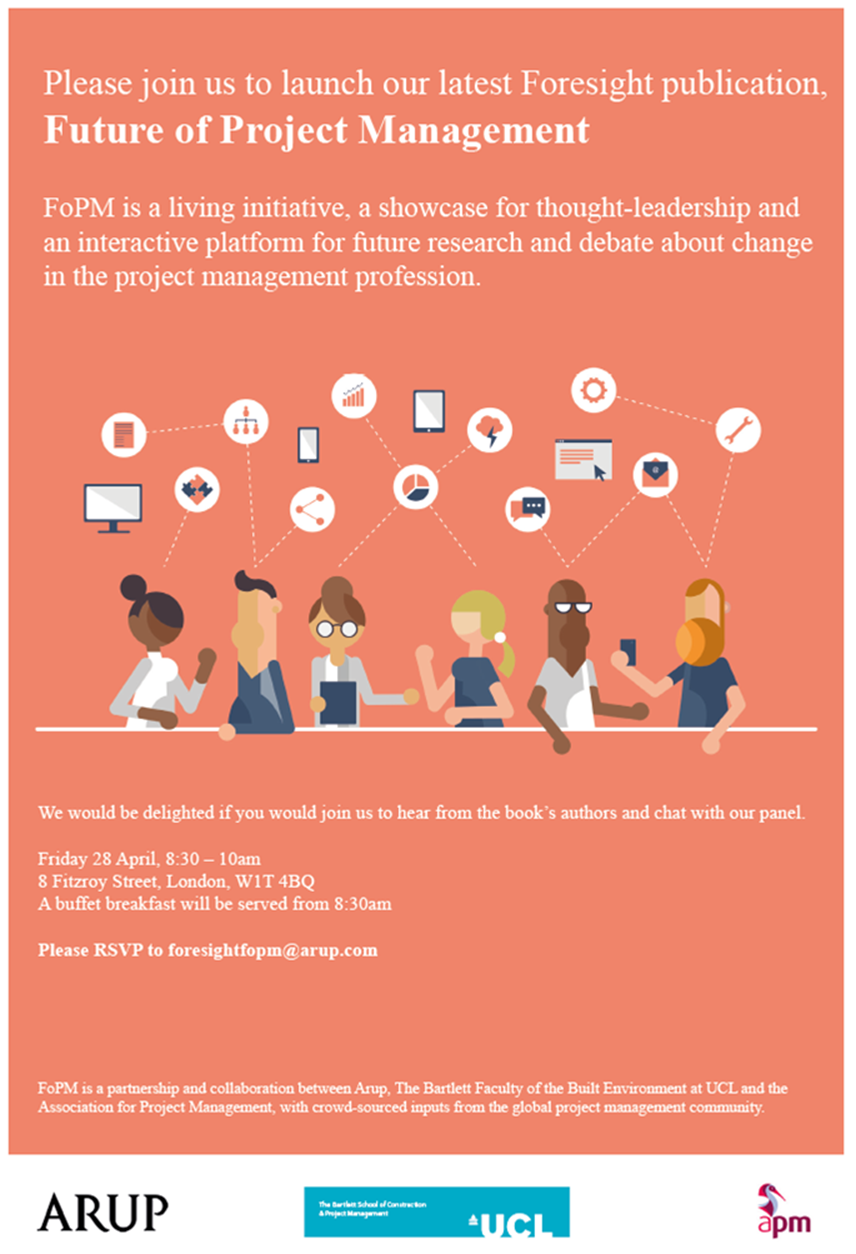 t with our panel of futurists - please email an RSVP. 
In July 2016 a workshop to prompt ideas about collaboration opportunities using Arup Foresight's 'drivers of change' cards quickly evolved into an excited conversation about the future of work, machine learning, MOOCS, Millennials, and the influence project managers will have in collectively creating, designing and building that future. The result was the Future of Project Management (FoPM) - a partnership and collaboration between Arup, the Association for Project Management, and The Bartlett School of Construction and Project Management at UCL, with crowd-sourced inputs from the global Project Management community.
It is a compilation of best practice, emerging trends, and forward thinking, an interactive site for debate about change in the Project Management profession, and a roadmap for future academic and professional research. The idea behind the Future of Project Management is to produce something that really challenges people's thinking - to jolt the project management profession beyond the day-to-day focus on current challenges, and think about the forces shaping our longer term future more proactively. 
This is a valuable thought-leadership resource for project teams seeking inspiration to find a better way, an interactive site for debate about change in the project management profession, and a virtuous cycle prompting future research that in turn will provide fresh insight to develop and improve FoPM.  
FoPM is presented in three sections that set the context for the future through emerging mega-trends, then imagine that future through the eyes of our clients delivering projects, and finally outline plans and priorities for future action and research.
| | |
| --- | --- |
|   | Trends and Drivers are the game-changing forces that will shape the world in the future.  As drivers for change, these are far-reaching, sustained and relatively certain. These macro forces will present both challenges and opportunities as they transform the way society and markets function. The trends selected will have global impacts on the way we deliver change through projects. |
|   | Future Client experiences look at seven project management topics across the project lifecycle supported by best practice project case studies from around the world. Creative future stories for each Client experience enrich and illustrate the differences and qualitative shifts in the future, creating coherent, plausible stories from complex socio-economic and technological ingredients. |
|   | Planning ahead is a series of reflections on 'so what next?' from the three contributing partners. It captures the key FoPM themes in a summary infographic, and explains the various future initiatives and resources the Project Management community can engage with. These include FoPM additions to 'Arup Inspire', for project teams to use as a source of inspiration for strategy, risk, innovation or just to find a better way.  |
Many thanks to all our partners and contributors.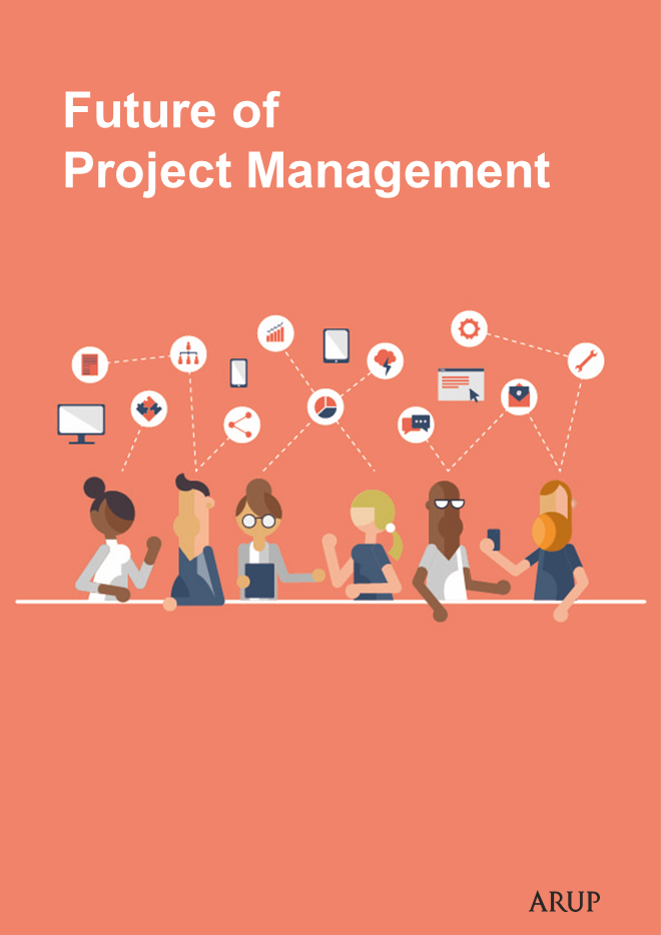 Collectively, these diverse mind sets have provided breadth of insight, balance, an endless supply of intellectual and creative fuel, and a common vision to wrestle a seemingly overwhelming topic into a piece of work that really matters. This kind of exercise has never been more relevant as we each seek to make sense of the future in a landscape of rapid and profound change.
No exploration of the future of work could ever be definitive, but FoPM provokes reflection and debate as part of the process of preparing for the challenges and opportunities ahead. We hope you enjoy exploring FoPM for yourself and look forward to engaging with you!
Future of Project Management – launching on 28 April 2017 - join the conversation now
A forward looking, inspiring vision for the project management profession
---