APM pays tribute to Geoff Lowe
APM has paid tribute to Geoff Lowe, a stalwart of the profession who helped to define the vision and strategy for the association and had a major influence on project management within the nuclear industry.
Geoff was elected an Hon Fellow in 2014 for his significant contribution to the association and the profession over many years. He died at the age of 62.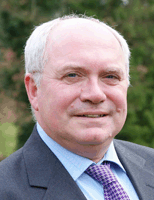 "He was a delight to work with and will be sorely missed by many people in the project management world," said Donald Heath, past chairman of APM and the one who had proposed Geoff for Hon Fellowship.
A long-time member of North West Branch, Geoff brought invaluable insight and experience to serving as a board member, on the Audit and Performance Review and Risk committees and through chairing the Strategic Policy Committee which initiated and developed APM's vision, Strategy 2020.
As chair of the Audit and Performance Review Committee, Donald worked closely with Geoff. "He was always a very positive and collaborative colleague. His contributions to the discussions were carefully thought out and he ensured that the committee did not stray from its remit."
As a member of the leadership team for British Nuclear Fuels, Geoff set the standards and processes within the Sellafield site, helping the organisation to develop its project management capability and community of professionals. He implemented best-in-class project and programme management practices for delivery processes, people development and overall governance.
A graduate in civil engineering from Imperial College, he was proud of the fact that he kept in touch with a number of his course colleagues, added Donald.
"I am sure that part of the reason for this was that he was extremely good company and was as well informed on the latest doings of Preston North End FC as he was on the most up-to-date aspects of nuclear engineering."
After leaving the nuclear industry in 2005, he set up Chartwells Consulting offering project and strategic consultancy to a wide range of clients. "As a one-man band, he must have made significant sacrifices to put in the time on APM activities that he did," said Donald. "The association owes him a great debt."
Hon Fellow and board member, Alistair Godbold, also paid tribute to Geoff. "He was an adviser and voice of reason professionally in the nuclear project management field and a very good friend with a wicked sense of humour."
"He was indeed a stalwart of APM and helped to guide the association through our application for Royal Charter.  I will miss him and project management will be the poorer for his passing."
APM extends its deepest sympathies to Geoff's wife, Jan, and family.