APM Body of Knowledge 7th edition: Get involved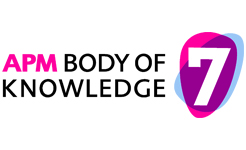 The Association for Project Management (APM) has launched the consultation phase for the updating of the APM Body of Knowledge to its seventh edition.
The APM Body of Knowledge provides a comprehensive starting point for anyone wanting to understand the breadth of the project management profession. Building on the sixth edition, which recognised the growing influence of programmes and portfolios in delivering change, the upcoming edition is set to address the increasingly volatile, complex and unpredictable world we live in today.
Alongside the consultation, APM, the chartered body for the project profession,  has also announced the appointment of Dr Ruth Murray-Webster HonFAPM as editor of the next edition with Professor Darren Dalcher HonFAPM acting as its academic advisor. 
The seventh edition will be created with extensive input from the profession, with Ruth and Darren leading an editorial team tasked with creating the final draft.  
Speaking of the appointments, APM chief executive Sara Drake said: "We are delighted that Ruth and Darren have agreed to lead our editorial team for the next edition of the APM Body of Knowledge, we have the winning combination of experience, expertise and credibility within the profession and I know they will help us to deliver a high quality next edition."
Ruth, who was awarded an APM Honorary Fellowship in 2013, said: "I was very honoured to be asked to be editor of the first APM Body of Knowledge for the chartered profession. The APM Body of Knowledge has a long history of being written by the profession for the profession, so leading that is exciting."
Consultation on the next edition will start on Monday 26 February with the aim to deliver the final edition in spring 2019. 
Find out more about the process and how you can get involved.