Get more done without getting busier or burnt out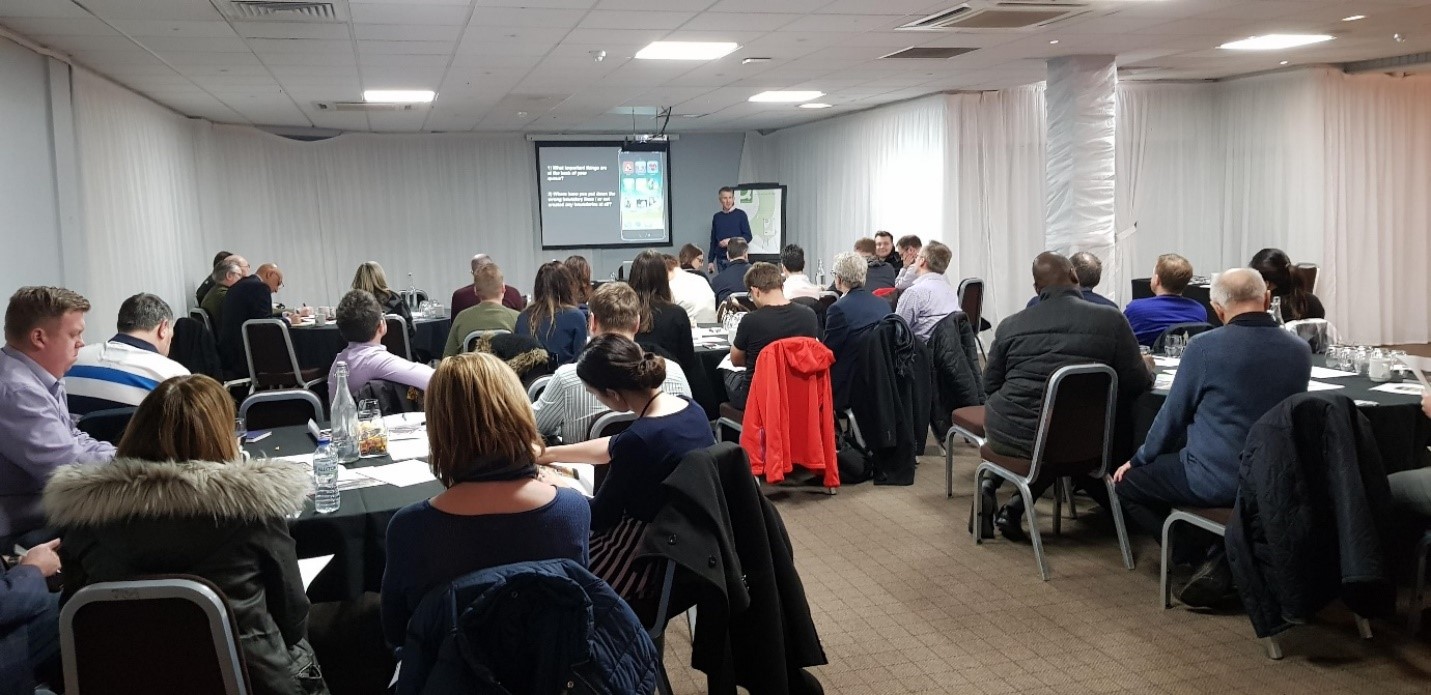 What's it all about?
Andrew Pain - TEDx speaker, productivity coach, blogger and campaigner - challenged APM Midlands branch members to think about our productivity at Dudley Village hotel, on 18 February 2020.
Andrew's expertise is revealing how to:
Kick procrastination in the pants once and for all, no dithering or delaying!
Master self-discipline with one powerful strategy: no more faffing about or working in 'snail' mode!
Eliminate 4 hidden habits, which drain 2 hours every day.
Make wise decisions about priorities, even when drowning in things to be done!
If you only read 1 thing read this
Establish your boundaries and identify your most important activities: do not neglect or delay on your most important activities.
The workshop
In a 'powerpoint'-light talk, the emphasis was definitely on challenging us to think about our own personal strategies and how to improve or introduce new ways of 'getting things done'.
In the first part of the evening Andrew described how everyone has their own personal boundaries and they can come in 3 levels:
Line in the sand: (tide washes it away, you can step over it with ease) Your Line in the sand boundaries are the things you're willing to compromise easily on, or let go of. 
Flexible fencing: (staked into the ground, it's more of a barrier than a line in the sand, but it can still be moved) Your Flexible Fencing boundaries are the things you're willing to compromise on, but the compromise costs you. 
Castle walls: (with deep foundations, they don't budge) Your castle walls represent your deepest principles and values, your desired outcomes which you will not compromise on.
Andrew asked attendees to consider what's important to us, in all areas of life using a visual tool to help us explore 9 key areas of our lives. Working in groups or pairs he encouraged everyone to write-down which really important tasks have been put to the back of the queue and to reflect why this could be, and what we're going to do to bring them to the front. He also asked us to identify where we have established the wrong boundary lines and how we will fix this.
The hot food buffet provided more time for group discussion and Andrew started the second half of the evening with a quick quiz on gender procrastination, with the results questioning stereotypical assumptions, as well as challenging general assumptions about why we procrastinate.
Using examples from his own life, he explained why procrastination is complicated, and revealed how to overcome it. Finally, he challenged us to think about ways in which we all procrastinate, sharing some of the most common procrastination makers! He continued by suggesting ways to prioritise those tasks and making a commitment to 'get it done' by selecting a different technique to keep at bay the attraction of doing something else.
Opinion – influencers

Ram Singh attended the event and said "Another brilliant meeting. Brilliant location, FREE car parking. Big turnout. More importantly superb training. Well Done to the team."
Chris Harris, also attending, said "Andrew is a knowledgeable and engaging speaker, with a wealth of experience in time management techniques. I whole-heartedly recommend Andrew as a speaker for future events."

Summary – 3 take outs
Turn-off wi-fi and data on your phone as your standard – only turn back on in dedicated slots of time during the day, or if you're lost and need google maps – then turn it OFF
Decide where your boundaries lie for key aspects of your life – understand that each boundary creates a consequence – are you OK with the consequences?
Clear internet browsing history to remove targeted YouTube content – don't get side-lined by watching more of Lionel Messi's goals from 2012!
Adrian Turner, Midlands Branch Volunteer