Getting a bigger bang for your programme - how organisational change management helps you implement change successfully
Getting a bigger bang from your buck from your change programme: 6.5 to 1 really?
The Programme Management SIG was pleased to stage a second speaker event this week as part of their contribution to APM's busy Winter time-table. Earlier this month, Ian Jones had previously spoken at a breakfast event in Hammersmith on the award winning major Transformation Programme that Royal Mail is currently undertaking.
This week it was the turn of David Miller to 'sing for his supper' at Westminster City Hall.  Our thanks go to Westminster City Hall for providing the room. Despite the fact that it was a chilly snowy evening forty-plus delegates turned out to listen to him.

The evening kicked off with event MC Adrian Pyne (Programme Management SIG Chair) providing the warm up by; plugging RPP, outlining ProgM' s ambitious plans and activities and welcoming our guest speaker.
As per the billing, David provided a model for delivering successful programmes; and making change stick. The Organisation Change Model (OCM) he used was Changefirst's tried and tested formula – People Centred Implementation (PCI).
David explained that it is the difference between reality and expectation that creates fear in a change subject's brain, leading to a fight or flight mentality. Essential day-to-day routines and habits are hard-wired in, and change involves a loss of control for the individuals concerned, and thus will take effort on their part.
Transformation progammes often fail to meet their goals because people haven't committed to the new ways of working or they struggle to change their skills and behaviour.
The challenge for change leaders is that this people dynamic can, and often does, lead to a significant loss of value from change projects, whereby it becomes difficult to deliver the business case. Whilst, as programme managers, we need to know that the (technical) solution we are putting in is of a high quality, we also need to be effectively ENGAGING people to speed up their adoption of the solution.
David explained that comprehensive data held by Gallop suggests that world-class organisations record an engagement ratio near 8 to 1 - meaning that there are eight engaged employees for every disengaged one.
What is interesting is that one of the major influencing factors in employee engagement is the degree to which all employees see the organisation successfully implementing change. Being part of change initiatives that constantly fail or end up at installation only, demotivates people and saps their energy, focus and excitement.
To close this value gap we also need to build skills so people can feel proficient. We often need to shift behaviour so that people will utilise 'the system' and definitely need to manage resistance and create commitment to help people sustain their effort.
David outlined the six critical success factors, with their associated end goals, of the PCI model.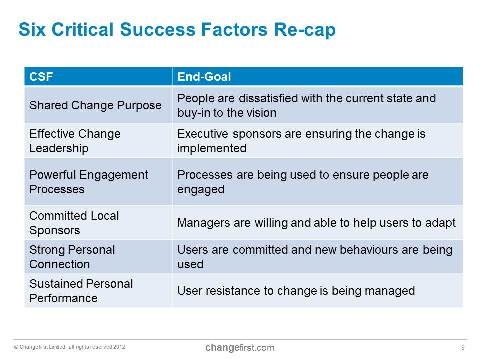 David went on to highlight how the various components of the PCI model can be integrated to the project life-cycle at different stages. See for example the diagram below: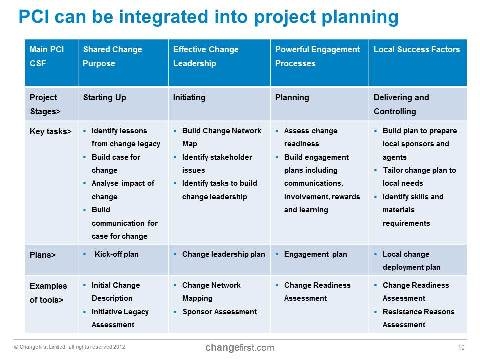 David closed his presentation with the following summary, after which he took questions:

Major change happens when people actually engage with it but the challenge for change leaders is to implement rather than just install change. His work powerfully demonstrates how Changefirst's PCI methodology, integrated with project management, can close the value gap.
David argues that for every £1 invested in OCM an ROI of £6.50 can be achieved. In the current financial climate, if true, this represents a pretty irresistible rate of return.
David's presentation can be seen below: