Girls' education challenge
How do you help one million of the world's poorest girls improve their lives? Jason Hesse talks to Emily Meager, programme manager of a £300m international development fund.
As the flagship fund of the UK government's Department for International Development (DFID), the Girls' Education Challenge aims to give one million of the world's poorest girls an opportunity to improve their lives through education.
It is the largest ever global fund dedicated to girls' education, and PwC – which won a competitive tender to manage the programme fund in 2012 – is responsible, alongside its alliance partners, for managing the £300m fund until 2017.
The Girls' Education Challenge is split into three branches. First is the 'step-change window', which is for upscaling tried-and-tested interventions that are already having an impact. This is the largest section of the programme, accounting for two-thirds of the total £300m allocation of funds. Projects are in some of the most challenging states in the world, including Somalia, Afghanistan and Sierra Leone.
Second is the 'innovation window', which focuses on implementing new, innovative ideas to support marginalised girls to succeed in their education. The final branch is the 'strategic partnerships window', which focuses on establishing new partnerships with the private sector. This model was set up to encourage the private sector to match-fund the investments made by DFID. Companies involved include Discovery Communications, the Coca-Cola Company, Avanti Communications and Ericsson.
The Girls' Education Challenge programme team is made up of managers both in the UK and in the local countries. PwC works in an alliance alongside external subject-matter experts and colleagues from three specialist organisations (Social Development Direct, Nathan Associates, and FHI 360). A dedicated team in DFID also provides strategic oversight.
"We started by assessing the projects that would be eligible for the funding," explains Emily Meager, programme manager at PwC. More than 1,500 projects applied for funding, and this has resulted in 36 operational projects across 18 countries: "We chose those that showed value for money and would be likely to be sustainable after the funding finishes."
Payment by results
Value for money is a key consideration of the programme, and has been at its heart since the inception. Sixteen projects have a proportion of their budget 'at risk', whereby they only receive the money when they show they have delivered their objectives, and an additional bonus where they exceed their targets.
This was a challenge at first, says Meager: "Payment by results was a relatively new approach for many of the grant recipients when we first started. It required a new way of thinking, which focused on achieving the outcomes of the projects, but also putting into place the mechanisms to measure them."
Baselines were undertaken by projects to measure girls' initial learning and attendance levels in schools at the start of the programme. "It has to be something we can measure against, which ensures that we understand the intervention," says Meager. "We did this upfront and set targets for each of the projects so that they had clear goals around outputs and outcomes."
The result is that the programme will offer new insight into international-development education projects. DFID is undertaking a longitudinal study of the programme's outputs and outcomes.
"This programme provides a great opportunity to build on the evidence about what really works in education and what doesn't, and why this is the case," explains Meager. "The programme will provide a new view. We will have evidence to see whether this type of development programme should be done this way or in a different way."
PwC's own payments are linked to outcomes, and the firm must hit certain milestones and KPIs to be paid. A proportion of the firm's fee is contingent on hitting these KPIs.
The Girls' Education Challenge programme is assessed through a programme logframe, which monitors the agreed outputs of the programme.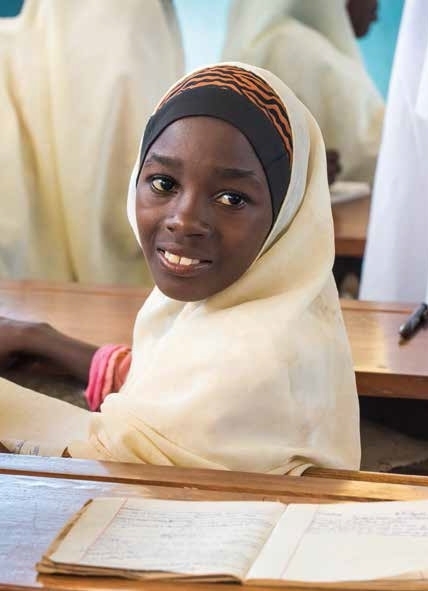 One of the key outcomes that measures success is the number of girls who improve their learning by 2017. The programme has reached more than one million disadvantaged girls to date. As of June 2016, the programme is on track to meet its targets, with more than 500,000 having met the set learning targets in literacy and numeracy, and achieving significantly higher learning outcomes. These are robustly measured as learning progress over and above their peers outside the programme.
Challenges
Operating in volatile environments is a challenge. From earthquakes in Nepal, to the Ebola outbreak in Sierra Leone and terrorism in Afghanistan, the Girls' Education Challenge projects have faced significant events, and Meager has had her hands full in keeping the projects moving forward.
"However well you plan and have the right team in place, you cannot anticipate these sorts of events," she explains.
The team has answered the challenges creatively, supporting emergency education interventions to allow the girls the projects were working with to maintain their identity as students. For example, during the Ebola outbreak in Sierra Leone when all schools were closed and restrictions placed on public gatherings, the Girls' Education Challenge-funded projects ran radio programming so that the girls could carry on with their education. 
Meager explains: "While this type of intervention does not contribute overall to our learning targets, it means the girls are ready for education when the schools open again. It helped the girls to keep thinking of themselves as students, rather than ending up doing housework and falling out of education.
"When we are working to eradicate poverty in a complex and fragile world, we need to think about how we adapt to the local context to make things work. Our framework gives us the flexibility to achieve this."
Lessons learned
The key project management lesson that Meager has taken away from this programme is that one size does not fit all.
"With a programme covering this many projects, the same team structure and approach cannot apply to everybody," she explains. "We have developed slightly different structures for each different organisation, as they operate in distinct ways and contexts."
This applies, for example, by taking a proportionate approach to how much monitoring the fund manager will do on a given project. Monitoring a project that operates in a stable environment, with strong management and less risk, will be more light touch, for example.
This underlines the importance of finding context-specific solutions. A tailored approach to a project is more efficient for all involved – there is less waste on processes that are not relevant to the project at hand.
While this programme has been one of the toughest that she has worked on, Meager says it has also been one of the most enjoyable: "This is a hugely satisfying programme to work on, and the subject matter is a great reason to get up in the morning: you know you are having a big impact on the girls' lives."
Progress to date (April 2016)
4,599 classroms constructed/renovated
34,424 girls with disabilities reached
67,451 teachers trained
1.6m girls reached
9.6m textbooks/student kits disbursed
£16.7m girls' bursaries/stipends/cash transfers
Jason Hesse is the editor of Project.