'Good client' role crucial to project success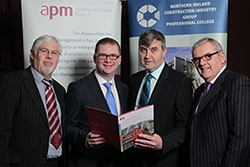 Effectiveness, efficiency and value for money in the project delivery of major public sector construction projects came under the spotlight at a major industry event attended by key public procurers of construction projects, as well as contractors and consultants from the private sector.
Finance Minister, Simon Hamilton MLA, delivered the keynote address at the conference which was jointly organised by the Construction Industry Group Professionals Council (CIGNI PC) and the Association for Project Management (APM).
In his speech, Simon said: "I recognise the important role the Construction Industry Group Professionals Council and the Association for Project Management play in partnership with Government to deliver expert levels of project management.
"My Department is the sponsor of the construction industry in Northern Ireland and, as a construction client, Government has reason to be positive. The successful delivery of important construction projects such as The Titanic Signature Project, the Giants Causeway Visitor Centre and the South West Acute Hospital are evidence that Government is a good construction client. Government, as a good client, wants to do things better and it can achieve this through public sector reform.
"We have listened to industry and responded by taking steps to reform and while this is having a positive impact, there is no room for complacency. I remain encouraged and I believe that Government and industry working together can improve together. Recovery has begun and Government as a best practice client in partnership with industry as a best practice supplier can deliver best value infrastructure."
Delegates also heard from Gerry Murphy, the Chief Operating Officer of the Olympics Delivery Authority who outlined lessons learnt from London 2012 and how these could provide a route-map for future success for those already engaged in high levels of project management here. Gerry's presentation can be seen here.
Commenting on the rationale for showcasing London 2012, Chairman of APM's Northern Ireland Branch, Leslie Warren said: "The 2012 Olympic and Paralympic Games are widely recognised as an outstanding exemplar of a transformational public sector project that was delivered on time and within budget. The public sector is the largest client of the construction industry in Northern Ireland. We believe the success of the ODA experience can help with the challenges faced in delivering high levels of project performance for the benefit of the Northern Ireland construction sector and the wider economy too."
Other speakers included Gordon Alexander, ODA Programme Assurance Executive who gave an insight to the Olympic construction programme - assurance and controls which can be seen below.
Des Armstrong Director of the Central Procurement Directorate at the Department of Finance &amp Personnel gave a presentation into the challenges within the NI PUblic Sector which can be seen here
as well as Mike Browne, from the University of Ulster and Honorary Fellow of APM who completed the days event with a presentation on Project performance - some thoughts and reflections which can be viewed below.