Honorary Fellowships for Steven Norris and Richard Pharro
Politician and successful transport businessman Steven Norris and APM Group (APMG) chief executive officer Richard Pharro will be awarded an APM Honorary Fellowship at the APM Awards tomorrow night.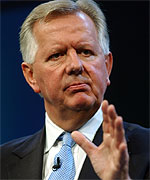 Steven Norris (pictured right) has had a career-long interest in transport, serving as Parliamentary Under-Secretary of State for Transport and Minister for Transport from 1992 to 1996. Among his achievements in office were the Jubilee Line Extension of London Underground and writing the original National Cycling Strategy for England.
Later, as chairman of Jarvis plc he presided over the companys acceptance of liability in the 2002 Potters Bar railway disaster, which had badly damaged Jarvis reputation. However, he won praise for leading a long fight to restore the company to health until it finally succumbed to the recession at the end of March 2010.
His national political career began in 1983 when he became Conservative MP for Oxford East. He later served as MP for Epping Forest, a seat he held until stepping down before the general election of 1997. He was the official Conservative candidate for Mayor of London in 2000 and 2004, with speculation that he would run again in 2008. A former vice chairman of the Conservative Party, he chaired the transport working group in Conservative Party leader David Cameron's Quality of Life Commission.
In 1997 he became director-general of the Road Haulage Association. He also served as chairman of the National Cycling Strategy Board from 2001 to 2004. Steven has been a keen supporter, promoter and developer of the profession of project management through his involvement with Jarvis and the promotion of London. He has led organisations in progressing their project management capability and promoting the development and sharing of good practice.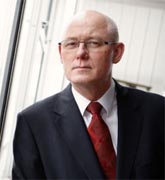 Richard (pictured left) is a Chartered Civil Engineer and in his early career he worked on construction projects in the UK and the Middle East. In the 1980s he was involved with the project management of the regeneration of East London with the London Docklands Development Corporation. During this time he was elected to the Council of APM when we served as vice chairman and played a leading role in the drafting and publication of the first APM Body of Knowledge.
He chaired IPMAs first International Certification Committee and pioneered the development and led the promotion, in the UK and Europe, of APMs Certificated Project Manager (CPM) qualification. These marked the beginning of a change of the perception of APM as an association of peers to a professional body with a defined knowledge base and qualification standards.
In the 1980s APM decided to follow the example of established professional bodies and set up a trading company to generate additional income. Several commercial organisations were invited to submit investment proposals as partners but none were deemed suitable, so Richard offered to give his time as equity contribution to a joint venture arrangement. This resulted in the formation in 1993 of the Associations trading arm The APM Group Ltd.
In 2000 the company managed a very successful IPMA World Congress on behalf of APM by which time it had paid back its start up costs to both parties and was trading profitably with a turnover of circa 1m. Avoiding offering services which might compete with APM membership led to moving into developing accreditation services for the UK governments project management methodology PRINCE2. It was then agreed that the two parties would separate and APMG could keep its name. Richard, now the sole owner, retained and still retains on the company board the members nominated by the APM Council.
Since then Richard has managed the expansion of APMG into a well recognised global organisation with offices worldwide and a turnover of more than 20m. Over 750,000 individuals now hold APMG/OGC (Office of Government Commerce) qualifications; in the UK a large number of these are members of APM. Under Richards hands-on management APMG has developed other qualifications in partnership with OGC; Managing Successful programmes (MSP), Management of Risk (M_o_R), Portfolio, Programme and Project Offices (P30), and in IT service management the IT Infrastructure Library (ITIL).
Richards name is one of the most widely known in the project management and IT communities internationally. He has helped change the face of project management in the UK with everything he has done with APM, with OGC and with Prince2 and ITIL.