How to attract the industry's best project managers
Findings from the recently launched APM Salary and Market Trends Survey 2016 reveal a new stance from the Project Profession as to what project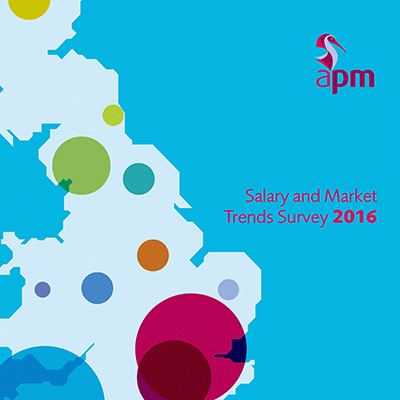 professionals are really looking for when seeking a new job.
While the survey mirrored many of the results from 2015 with over a quarter (28 per cent) of those searching for a job in 2016 stating diverse and interesting work as the most important factor followed by salary (26 per cent) and career progression (12 per cent).
The survey also highlights huge variances according to the age, gender and location of respondents as they reach different steps in their life and new factors such as family and job security impact their career choices.
For the youngest project professionals (18-24) in the survey, getting on the career ladder proved the most important criterion, with a third (33 percent) of respondents putting career progression at the top of the list when looking for a job.
With age, this focus of on career progression dropped dramatically, with 25 per cent of 35-44 year olds and just 3 per cent of those aged 55+ highlighting career progression as important.
The survey also showed women as most eager to reach the top job with two percent more females selecting career progression than their male counterparts.
While not top of the list, salary still proved to be an important factor for those seeking new job opportunities.
This was especially true for those heading towards the peak of their career with 29 per cent of 25 to 34 year olds placing it as the most important factor. Interestingly, 34 per cent of those based in Yorkshire also reported salaries as important, the highest of any demographic.
Compared to 2015, the survey highlights a stark change in attitudes towards job security with the percentage of respondents putting it at the top of the list more than doubling in some parts of the UK.
Regions such as Northern Island showed 15 per cent of respondents selecting it as a top criterion, up from the average 6.72 per cent last year, while increases could also be seen across Scotland (12 per cent) Ireland (13 per cent) and the West Midlands (11 per cent).
Factors of this could be drawn from recent major projects experiencing funding issues while industries such as gas and oil face ongoing decline in many of the more remote locations with no other major projects around to move to.
While just 7 per cent of those based in London thought it was key, the importance of location could be seen in many parts of Scotland, South West England and Wales, where it was consistently rated above the profession's average.
However next to 55+ year olds, it was women who placed the highest importance on location with 14 percent of female respondents playing it as their top criterion, compared to just 10 per cent of men. For both sexes the importance of job location grew with age, with the report showing a 10 per cent increase between those aged 18-24 (4 per cent) and 55+ (14 percent).
While there is a clear message from the survey of what is key to modern project managers, by examining the figures, the survey reveals a diverse and dynamic profession with young people looking to reach the first rungs of the ladder and experienced project professionals looking for new challenges to test the limits of what project management can do.
It also shows a demand for flexibility, with family-centred project managers searching for jobs which allow a high quality work life balance with the salaries and security to support it.
To read the complete survey click here