How to be in the top 10% of programme managers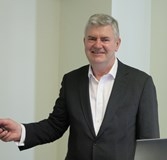 Patrick Mayfield, experienced practitioner, author and coach in programme management and stakeholder engagement, presented to the Programme Management SIG on 29th May.

Patrick leads pearcemayfield, an Oxfordshire-based international consultancy and training business.

Through involvement in writing "best practice", observing behaviours and the focus of BoKs, I have a growing conviction that we are focussing on the wrong things. It's not that the majority of elements in, say, the APM BoK are wrong; they are necessary, but not sufficient.

From observation of high performers, there seems to be a very different emphasis as evidenced by a distinct but consistent pattern of behaviours.

The good news is that we can learn from High Performers and improve our own performance.

A few years ago there was some chatter on the internet, across certain blogs, that went like this: "if only we could get into the minds of high performers, find out what their mental checklist was, we could follow that checklist and get the same results." It was straight out of cognitive psychology's playbook.

So we decided to do some research into project and programme managers. We noted similar work by:

Stuart and Hubert Dreyfus into skill acquisition by certain professions;
David Partington and Sergio Peregrenelli's phenomenological study at Cranfield into programme and project managers; and
Andy Crowe's work in the States into 'Alpha' project managers.

We called this the Crib Sheet Project. Our research questions were simply: "Do all programme/project managers have such a checklist? And if they do, is it the same?" We ran the same research design over two consecutive years – taking a cohort of volunteer programme/project managers and their line managers, sending them a weekly questionnaire, and then conducting telephone interviews with the subjects and their line managers at the end of six weeks. Weekly questionnaires allowed us to reconfigure and hunt for new data as questions arose from the data.

Towards the end, through line manager validation, we identified a small sub-group that Crowe calls the "Alphas", and that these did display a distinctly different modus operandi. It seemed that these "alpha-traits", as we called them, did have personal checklists, but they were different from each other; no two checklists seemed to be the same. However, what was more consistent were their patterns of behaviour, which we came to believe were learned behaviours. These emergent patterns of like behaviour were:

Personal margins. All the alpha-traits kept back a portion of their time. To them this seemed obvious, whereas the majority allowed themselves sometimes to be fully scheduled. This basic time management discipline helped the alpha-traits draw on a buffer when the unexpected happened.
Leaning to action. If personal margins allowed them to react, most of their overt behaviours were the opposite, leaning into the challenge of their programme or project.
Taking these first two patterns together, it was illuminating that one respondent, a portfolio manager in a police authority, remarked in their interview, "The study made me think how reactionary I am for most of the time."
Leaning to relationships. This was by far the most marked pattern. We sought to identify how the subjects used their time when they had a choice. So we measured 'discretionary time'. One of the ways we studied this was to divide this discretionary time between task-oriented activities and people-oriented activities. The results were dramatic.
The majority of the population spent between 8-12% of their time in people-oriented activities.
Whereas, the alpha-traits spent between 60-80% of their time in these activities in any given week.
For example, one interim programme manager told us: "I made it my business when I came here to immerse myself in the business community, to understand who was who, and how they functioned."
Self-aware. We didn't intend to validate this bedrock of emotional intelligence, but this emerged quite strongly. The alpha-traits took seriously "thinking about my thinking", challenging their hypotheses and seeking to improve their working priorities. An indicator of this was that they could all articulate their top five most important areas, whereas the majority struggled to list five.
Dr Norma Wood, as Interim Director General at the Major Projects Authority (MPA), was responsible for the oversight of a public annual portfolio in the UK Government of £440billion. Part of MPA's initiative is to improve the performance of these major projects through their leadership academy. She reflects that the module on "Personal Mastery" is one of the most illuminating in the whole programme.

The Dreyfus brothers similarly formulated their skills acquisition model. It seems that the Competent, Proficient and Expert levels are more context-specific, intuitive, but also people at these levels 'own' their own learning and actively work on honing their skills.

Most of organisation's L&D efforts invest in the lower order of competence levels, and fail to use alpha-traits as models and coaches.

If we are not yet at the alpha-trait level, most of the patterns we observe, especially with the tyranny of the urgent, feel counter-intuitive, rather like steering a rear-wheel car into a skid.

We need to reappraise what is important to our work. Our focus isn't necessarily wrong, just limited and unbalanced. We need to see the bigger picture. Our alpha-traits seem to notice more as relevant in their work that others often miss, such as the quality of relationships with key stakeholders.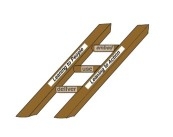 In my recent book, Practical People Engagement, I propose the Value Ladder as representing the key states in the business life cycle of change – deliver, use, embed – as steps on a ladder. What binds these steps together throughout the life cycle from start to finish are a leaning to action and a leaning to relationships.

We can view these steps as a transition model going through Kurt Lewin's three states of Unfreeze, Move (use), and Refreeze (embed). What goes with this is the task of working with people to maximise benefit realisation. If we view this journey through these three states from the point of view of business stakeholders learning new competences, then we can expect a dip in performance when they hit conscious incompetence. This is not often allowed for in business case planning.

Again, I contend we have been focusing, emphasising the wrong things. The good news is that we can consciously learn to develop these new behaviours.