HS2 launches largest ever tunnel-boring machine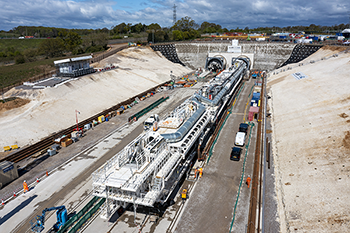 HS2 has launched the largest tunnel-boring machine (TBM) ever used on a UK rail project.
The 2,000 tonne, 170-metre machine – named Florence after Florence Nightingale – is the first of 10 such TBMs that will create 64 miles of tunnels between London and the West Midlands on phase one of the UK's new high-speed railway.
Built by Herrenknecht in Germany, Florence is designed specifically for the mix of chalk and flints under the Chilterns where it will carve 10 miles of tunnel. It will operate as a self-contained underground factory, digging the tunnel, lining it with fibre-reinforced concrete wall segments and grouting them into place at a speed of around 15 metres a day. A crew of 17 people will operate Florence as it works non-stop around the clock every day for the next three-and-a-half years.
HS2 Ltd chief executive Mark Thurston said: "The launch of our first tunnelling machine is a major moment of progress for the HS2 project as we work to deliver a high-speed railway that will offer low-carbon alternatives for long distance journeys across the UK."
Image courtesy of HS2