Improving skills across the Civil Service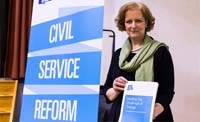 The Civil Service recently released a report 'Meeting the Challenge of Change: A capabilities plan for the Civil Service' which is part of its "new approach to improving skills and performance across all departments" (pictured: Una O'Brien, Permanent Secretary at the Department of Health, launches the Civil Service Capabilities Plan.)
The Capabilities Plan identifies its four priority areas as digital; commercial; programme and project management; and leadership and management of change.
The report identifies:
One of its four key priorities as "Delivering successful projects and programmes – increasing our ability to deliver the Government's priorities, 'right first time', drawing on project management disciplines and methodologies to achieve predictable, consistent, robust results"
The Civil Service needs to "to develop and link up commercial specialists from the various professions including procurement, finance, legal and project delivery in order to provide a world-class commercial capability"
The Civil Service "will develop a programme by summer 2013, in partnership with Civil Service Learning, to improve commercial skills, aimed at all civil servants who may influence what goods or services we buy, how we buy them, who we buy them from and how we manage their delivery" which will "emulate the Major Projects Leadership Academy model"
Senior civil servants should stay "long enough in key roles to see projects or changes through to fruition or to a clear project break point" and to have built "a diverse career background – combining experience in project delivery, digital service delivery and commercial as well as policy"
The Civil Service's "aim, through the Major Projects Authority, is to build a new cadre of world-class project leaders and incentivise them to work on the most important projects". However, it says that it "will buy in resources where necessary in order to get the right skills and experience for particular projects"
It "will introduce a new offer for leaders of major projects designed to attract the right people to the right posts and manage succession planning"
It "will support and expand the Civil Service Project Leaders Network, established in March 2012. This network provides peer support and best practice sharing across the project community"
It "will increase collaboration between the Major Projects Authority, HM Treasury, Infrastructure UK and departmental centres of project expertise to assure and support the delivery of our most complex projects"
The report details an overview of actions to implement the plan, including many actions focusing on developing project management, in sections 6 and 7.
Visit the Civil Service website to download the full report.