Introduction to Managing Change guide launch
O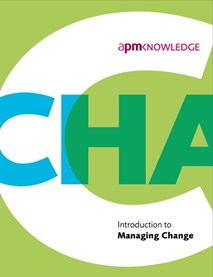 n the evening of 28th November 2017 in Central London the APM Enabling Change SIG launched its first guide Introduction to Managing Change. Written by the Enabling Change SIG committee members, the guide focuses on the key tenets of change and gives practitioners a useful guide to consult when delivering change.

The evening kicked off with refreshments and networking at the prestigious De Vere West One hospitality suite with a very strong 80+ turnout on the night before moving in to the main hall for the evening's presentations.

Proceedings began with Martin Taylor, Chair of the APM Enabling Change SIG, introducing the guide and the evening's agenda. Martin handed over to keynote speaker Dr Mark Hughes of Brighton Business School who posed attendees the question 'Do 70% of change initiatives really fail?'. Following an insightful and thought-provoking presentation the audience were invited to a Q&A with Dr Hughes where a wide range of interesting and hotly-debated questions were aired.

Attendees were then treated to an in-depth review of the change guide from Enabling Change SIG committee members Parag Gogate and Simon Williams. Parag outlined the six key factors for successful change identified by the SIG's research and consultation with a wide range of stakeholders, then Simon explained the need for a holistic approach to managing change involving a wide range of skills, techniques and approaches.

The evening ended with a lively discussion on how to enable effective change and how the guide can serve as a useful tool for practitioners moving forward. The Enabling Change SIG would like to thank all the delegates who braved the weather to attend and got involved making the evening a real success.

Slides from the event have been made available for viewing.


Kevin Lovett
APM Enabling Change SIG committee member