Is Programme Management delivering on its promise: ten years on? Paul Rayner Memorial Lecture Webinar
Is programme management delivering on its promise: ten years on?
Paul Rayner Memorial Lecture Webinar
Write up by Merv Wyeth – ProgM Chair
On Wednesday 26th March four authors of the Gower Handbook of Programme Management were brought

together to review their contributions to the book first published in 2006, and to discuss how thinking on the topic has moved on. The co-authors, all experts in their field, each took turns to expound on a specialist area of knowledge.
On the day, more than 170 delegates participated in the call with favourable feedback being received by many. More than 90% of respondents to a post-event survey rated subject matter and content, presentation and style and 'benefit to you' as good or excellent. Comments included "the presenters styles were very good and the slides consistent styling appealed to me"
Polls were used to good effect throughout the webinar with one question used at the opening and close to see whether there had been any swing in the vote, namely "Which ingredient makes the greatest contribution to programme success"
So, it can be seen, from the 130 or so delegates who voted that Managing People was some way ahead, and in fact increased its share of the vote from 55% to 62%. This was at the expense of taking votes from Benefits Management and Governance which were pretty much neck and neck, with Portfolio management trailing along some distance behind!

Tribute to Paul Rayner: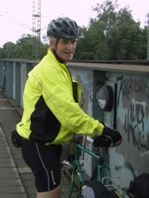 The webinar provided an opportunity to recognise the immense contribution to programme management made by thought leader, and all round good egg, Paul Rayner who sadly died on 1st August 2011. Paul was a very highly respected expert in project and programme management in particular.
As ProgM Chair, he saw the group expand in terms of its membership, expertise and in its range of events. He was a popular speaker, spreading the word about programme management throughout the UK as well as most of Europe.
Delivering Value through Benefits – John Chapman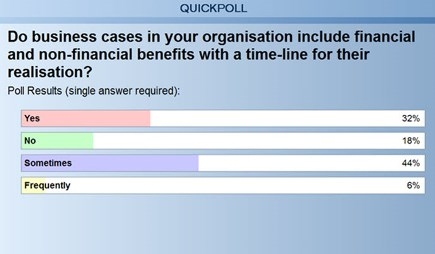 John kicked off the first session with a couple of quick polls in order to gain audience feedback.
In response to the questions "Do business cases in your organisation include financial and non-financial benefits with a time-line for their realisation?"
The results indicated 32% said yes with a further 44% sometimes and 6% on frequently – that is over four fifths were yes-ish!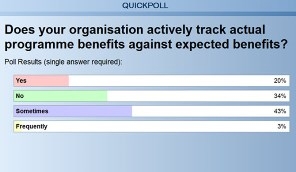 In his second poll John posed the question of
"Does your organisation actively track actual programme benefits against expected benefits?"
About two-thirds of respondent said yes-ish with only 20% saying a firm 'yes.'
Clearly this is an area for development!
John says "At the time we wrote the original manuscript projects were focused on the technology, people and resources. There wasn't much focus on benefits. Perhaps that was a reflection on project delivery. Since then, organisational competencies in programme and project management had grown, there was increased 'brain space' to understand the impact of the change.
He felt that in the hierarchy of human consciousness we have moved from a position of being unconsciously incompetent – we didn't know how to deliver projects and we didn't know we didn't know. Now we are consciously competent - we now about project delivery, that something is going to change and then we can think further to what does think mean to us.
There is now a recognition that IT systems are enabler that help to solve business problems; not the answer to the problem. John presented a picture of a white board and made the point that there is no point buying a white board unless you are going to use it. Projects create deliverables, outputs or in PRINCE terms, products. Another analogy is baking a cake – we actually need to eat it if we are to derive the benefit.
People is difficult – Adrian Pyne
Adrian described his work as a consultant in the business transformation space as making organisations places where projects, programmes and portfolios thrive through their people and culture.
Adrian says "I am talking about the PEOPLE stuff. How People behave, as individuals or in groups. In other words the culture of the project, and the project's environment.
Well yes there is a bit of Leadership, Stakeholder Management , Communications. Even lots on the project organisation, but that is not really about people, its more about what processes their roles are about. The project manager, the planner, the change controller, the risk manager. There is also a great deal about Teams out there, but not much specifically in the projects space. And that is the issue.
The Process stuff is integrated; planning, risks, issues, reviews, change control etc. The Technology stuff is designed to work with the Process stuff. Create a schedule, add resources, link to risks, e-documents and so on. But PEOPLE are…..where? Well, there is a bit here, a bit there, a bit over there, but for the most part, the People stuff is DISCONNECTED.
He described a ray, nay a beacon of hope and identified some role models
• BAA: using an Intelligent Client approach for Heathrow re-development. A sea-change in construction contracting AND behaviour
• A global technology company which has developed a client-supplier collaboration model for a commercial relationship based on TRUST
• The existence of the Major Projects Leadership Academy
His prescription for next ten years? Creating organisations fit for projects, through integrating and adapting its processes, tools and above all else, through its organisation culture … its PEOPLE.
Evolution of Governance - Geof Leigh
Geoff explained that Best practice guidance hasn't changed substantially in the last 30 years. IT had promised to revolutionise governance by providing a 'silver bullet' but it didn't happen. Executives had disconnected and projects and programmes were left to fend for themselves. A typical quote at the time was "We've appointed good project managers and given them the tools. If it doesn't work it's their fault, sack them!"
Ten years ago he explained The governance I was observing a decade ago was generally not good. Those performing governance seemed to be unclear about their role. They were often under self-imposed pressure from their strategies and business plans.
Geoff went on to characterise what good governance looks like today:
Taking the time and trouble to really understand so the right decisions are made, especially the hard ones

Managing and leading; it take both and the balance has to be right
Much more than attending the 'monthly' meetings; getting stuck in when the going gets tough
Understanding some change is uncertain; establishing an appropriate framework, allowing time to learn
Sometimes accepting the change isn't going to work; stop it or re-direct it
Has Portfolio Management come of age? - Geoff Reiss
Geoff posed the question "What percentage of organisational spend on improvement projects and programmes is likely to deliver your organisation's strategy?"
Although approximately one third of respondents said that they did not have this information available to them, less than 10% felt that it was more than and three quarters (75%) of the total.
He cited some sobering finding from Gartner and Forrester Studies in 2001/3 which had shown that only one in four programmes delivered a measurable benefit. At this time the CIO's greatest challenge was the prioritisation of projects!
In 2004/7 PWC surveys had shown that those organisations who were using portfolio management believed they were getting better results!
Geoff is aware that the amount of activity in this area has ramped up considerably. For example in the article Project Portfolio Management (Feb 2014) Antonio Nieto-Rodriguez talked about the challenges of the Project Selection and Prioritisation process (PSP)
Geoff went on to explain that within the APM we have seen the formation of the Portfolio Management SIG, the Benefits Management SIG and the emergence of a very wide range of software tools specifically aimed at assisting a portfolio manager.
Whilst it was his observation that there is a still a significant number of 'pet projects' that make it through as the brainchild, or favoured child, of a powerful individual, PPM generally had matured and spread it's influence.
Question & Answer
Due to over-running the speaker sessions, and that was always going to be a risk with four top speakers, it proved necessary to provide a post-event Q & A (as per below).
Q. Could you please explain what is meant by "Benefits"?
A. Benefits are the raison d'etre for all projects and programmes. They must exceed the costs and risks on the initiative or undertaking in order to for the business case to be viable. The OGC guidance Managing Successful Programmes (2011 edition) provides a taxonomy of benefit types or categories in line with corporate objectives. http://www.msp-officialsite.com They are as follows:
1. Increased flexibility
2. Internal performance improvement
3. Enhanced personnel or HR management
4. Policy or legal compliance
5. Process improvements
6. Enhanced quality of service
7. Reduced costs
8. Improved revenue generation
9. Reduced environmental impact
10. Risk reduction
11. Strategic fit
John says … for an explanation of our approach, watch the short YouTube video entitled Delivering the ROI to improve organisation decision making https://www.youtube.com/watch?v=lfBCKVnrVS8 . I believe that it is misleading to confuse PLCP Products with "products" as a generic term in PM.
Q. Are there any changes in Programme Management from the Agile project management world? What are the key trends that Programme Managers should take a look at?
A. Looking at the environments around programmes. This is where agile thinking can help create and sustain an environment fit for programmes.
Q. How do we distinguish between visionary versus vanity projects?
Some organisations have an independent group who evaluate each proposal without the influence of the key stakeholders and this might help to sort the good from the bad.
Q. How can we clearly define the difference between programme management and project management within an organisation which is currently going through organisational change?
A. Projects deliver a product – a building for example. A programme combines the products of multiple projects and delivers a complete capability – the new building, IT support equipment, staff, office equipment and training. The organisation can use the capability and gain benefit. It is rare for a single project to deliver benefits. Projects therefore result in outputs. Programmes result in outcomes.
Q. Is the answer of "People are difficult" applying "Change Management"?
A. Firstly it's People IS difficult. This may sound like a grammatical error, but my point is that people stuff is difficult. Saying people ARE difficult implies that people as individuals and groups are always a pain. And some people are, but some have great and useful behaviours. To answer … it depends on what you mean by Change Management (CM), which in my view is related to Programme Management.
CM is not about the delivery of change. That is what Programme Management evolved to do. Much of what is written about CM focusses on defining the change, how it will be delivered (e.g. one or more programmes), then capturing benefits - that result from the programmes, and comparing against planned benefits.
What it could also do is establish in an organisation the environment for success. I have been involved in this approach and it worked. So, in short yes but … not if only the first part of the above is done.
Q. Are methods and practices becoming to prescriptive i.e. conditioning of people (managers) to not think sufficiently for themselves?
A. [1] For me, the thing that differentiates the professional from the practitioner, and especially the beginner, is the professional's ability to adapt. This is similar to a learner driver, who needs to pay closer attention to the highway code and their driving skills. The more experienced driver takes much of the knowledge and skills for granted, but even so should continually learn and improve (!)
[2] Where an organisation has implemented "standards" that are unnecessarily prescriptive. Geof Leigh mentioned this in terms of sixty page reports when a dashboard will do. In this case, an organisation maturing in P3 should learn what is appropriate, or mandatory, leaving the rest to the adaptive professional judgement of individual PMs.
Q. Who should look at Benefits realisation (take action) if 6 months -1 year after the programme team has disbanded?
A. This could be a specific role of Benefit Management, as they are responsible for tracking benefit realisation in business as usual, or the role of a Programme office. It does require focus and responsibility. If it is left to the BAU managers then there is a danger that they will not focus their efforts on this as they concentrate on business as usual.
Q. What are the key Agile Programme Manager certifications at the moment within the UK, Europe and US?
A. I have no idea and am unable to comment on their value. My observation is that there is no Agile project or programme management … YET. I would like to see them, but they would need to be materially different in concept and approach rather than adapting existing methods – which in my view is all that I have seen to date. Hence I have now started an Agile and Lean Thinking to Projects (Check link to open group) Specific Interest Group on Linked In. If these ideas are not a core part of the training, personally, I would not think much of it.
Q. Is the increasing access to knowledge contributing to a general de-skilling of emerging managers?
A. A fool with a tool is still a fool. Access to knowledge may help but it is the application of that knowledge in a human world as well as sifting of the useful from the not so useful knowledge that helps a manager perform. For example, does knowledge of the Highway Code make one even a competent driver, let alone a good one? My fear is that in the minds of HR recruitment professionals … it may!
And finally, the webinar was recorded and a full copy is available on YouTube and can be seen below:
The next two Programme Management SIG events are:
and