Key themes from Risk SIG Conference 2018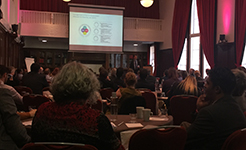 Kicking off the year, the APM Risk SIG community came together to explore the challenging theme of Risk Capability in the new Victorian Age.
"Even as an organiser I wasn't quite sure if we'd manage to pull off such a wide-ranging theme," said Ken Evans, chair of the APM Risk SIG.
One of the most important things about the projects of the Victorian Age was that they led to social change, claimed keynote speaker Jeremy Harrison -  HS2 Risk and Assurance Director who explored the risk processes and tools of the biggest UK projects today.
"At HS2 we started with eight key principles agreed by the board; everything developed from there was tested against those principles to see if it was the right thing to do," explained Jeremy.
This concept of working across project teams and across stakeholders to deliver a project was a key theme of the conference.
Speaking to delegates of the Mega-Projects and Governance stream, Nichola Vine, LLP partner for Wright Hassall, built on the morning's season exploring the impact and importance of governance and assurance aligned to Risk.
"Governance and assurance shouldn't be a cottage industry," she explained; "It should be something that works for the client and other stakeholders. That means it needs to be flexible enough to meet the changing environments that all projects operate in." But it was stressed it was vital that, while flexibility was important, maintaining accountability at all levels; a basis of good governance was crucial.
Nichola's messages punctuated the afternoon sessions, an encouraging outlook that saw specialists in related fields and risk specialists sharing a common understanding of a problem: "We can't just live in the risk field, but have to engage with the rest of the project team and our stakeholders".
But of course, relying solely on a board can be dangerous, argued Dr Ruth Murray-Webster from Potentiality UK;
"Any group can be dominated by the loudest voice with the rest finding safety in numbers. When 'we decide', too many people lose their personal accountability. We need to learn how to give people permission to be quiet, permission to speak up, and even permission to change their minds."
Focusing on skills and competences, Egan Naidoo, chief advisor QRA from African Energy, talked about his framework for risk management maturity and competency, explaining that competency is applied in our performance of our jobs, which gives us experience, thereby improving our skills, knowledge, and hopefully our attitude, which in turn drives the increase in our competency.
This was supported by Tom Frost from Shell who described the importance of people focusing on outcomes. "If people understand why something is critical they will find a way to achieve the desired outcome – if they are just given instructions without background they may fail," he explained.
Looking back at lessons learnt from the conference, Ken Evans led delegates in a tentative move towards thinking that our understanding of what it means to be a risk manager is flawed: we can't be the ones accountable for managing the risk, but we shouldn't just be a risk reporting function. How do we start to build that into future organisational design? 
Keynote speaker Dr David Hillson gave a lasting metaphor for project complexity as he closed the conference:
"We say that our projects are on track, but that implies that projects are like trains, hurtling along a plan towards their inevitable destination. That's not how projects work: they're more like sailboats, where we have to make continual course corrections based on next circumstances to move towards our destinations.
To become risk capable in a world that requires more skills than just identifying whether there's anything on the tracks we have to read the weather, the currents, the sailboat itself, and understand how those things interplay with each other."
APM would like to thank sponsors Lucidus Consulting and Barbecana
Speaker presentations
See Dave Hammal's presentation
See Dr. Budzier's presentation