Know a potential project professional? Share this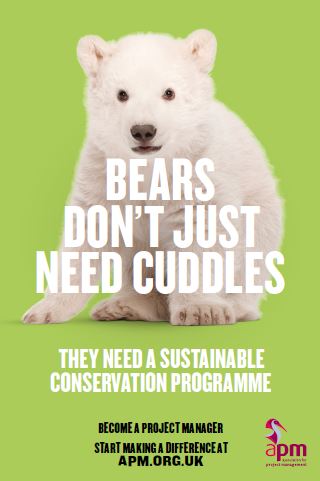 APM's most ambitious awareness campaign has now been seen by millions across the UK; many of who may now be at the start of a new career in the project profession.
The high-impact campaign has chimed with a wide range of audiences turning heads across the nation. And now it's over to you; our members to share with someone you think could be the next world-class project professional.
Whether a school leaver, a career changer or even the 'organiser' in your group who plans outings to the Nth degree and is crying out to be a project professional. We have a dedicated webpage with all the information they need to kick start their career in our growing profession.
So, share the bear or get them to click on the brick. However, you do it, now is the time.
Commenting on the campaign at its launch, APM chief executive Sara Drake said:
"As a chartered body, one of our key objectives is to raise awareness of the profession and to encourage more people to consider it as a career.
And through bears, bottles and bricks our new campaign does just that.  
By highlighting the opportunities on offer from a career in project management we hope to bolster our profession's pipeline with the skills and talent which are needed to meet the growing demand across all sectors."
As well as outdoor advertising, APM will appear on The Guardian's online jobs board and other targeted websites for the duration of the campaign.