Leading academic Bent Flyvbjerg awarded APM Honorary Fellowship
Bent Flyvbjerg, first BT Professor and Chair of Major Programme and founding Director of the BT Centre for Major Programme Management at the Sad Business School, Oxford, has been awarded an Honorary Fellowship by the Association for Project Management.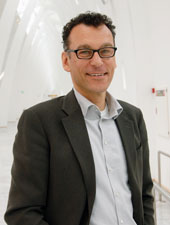 Bent is acknowledged as a leading international expert within the field of programme management and planning, perhaps best known for his book Megaprojects and Risk An anatomy of Ambition - widely regarded as essential reading for project managers, sponsors and commentators alike. His ideas on optimism bias have been incorporated into project evaluation techniques around the world and through his work at Oxford University he continues to influence the development of project management through his research and the teaching of some of the leading programme managers of today and the future.
Flyvbjerg has been a consultant to regulators, corporations, banks, national audit offices, the EU Commission, and the United Nations as well as adviser to the UK, Dutch and Danish governments in formulating national policies for infrastructure, environment, transportation, and science.
He has received numerous honours and awards, including two Visiting Fulbright Scholarships to the USA, where he did research at the University of California, Berkeley and at Harvard University. He has been a Visiting Fellow with the European University Institute in Florence. In 2002, Queen Margrethe II of Denmark conferred upon Bent Flyvbjerg the Knighthood of the Order of the Dannebrog for his professional accomplishments.
Bent will receive his Honorary Fellowship at the APM Project Management Awards on 20th October 2011 at the Brewery, London. Join in the celebrations and book your place at the awards dinner.