Listen to the first Learning Legacy event in full [Podcast]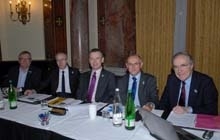 If you were unlucky enough to miss the inaugural APM Learning Legacy event then you have a chance to catch up and listen to a podcast of the sold-out event in full.
You are also able to get a fuller picture of the best practice that was discussed at the first event in the series by downloading the presentation slides so you can read through these while you listen.
There are also video interviews with the speakers including Dennis Hone, chief executive of the Olympic Delivery Authority; Jason Millett, programme director at CLM; Stuart Fraser, project director at Balfour Beatty and Dr Andrew Davies from Imperial College Business School.
You may also be interested to hear how Dennis Hone is calling on PPM professionals to be 'ambassadors' for the profession and keep the legacy alive.