Lloyds Banking Group - Apprentices key to supporting goal of becoming 'best bank for customers'
Lloyds Banking Group will develop nine Apprentices as part of the Higher Apprenticeship in Project Management scheme to support the organisation's strategy to become the 'best bank for customers'.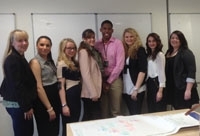 These Apprentices, who will be based across Edinburgh, Leeds, Halifax and London, are part of the Group's nationwide Apprenticeship Programme which has seen over 400 Apprenticeships undertaken since October 2012. The Group is set to grow its apprenticeship programme to 1,000 during 2013.
Lloyds Banking Group join the likes of BAE Systems, Rolls-Royce, EC Harris and British Airways to invest in new talent by creating places on the Higher Apprenticeship in Project Management scheme, which was developed by APM and Skills CFA.
Kate Guthrie, HR director, capability & engagement for Lloyds Banking Group said: "Developing project managers for the future is an important step in supporting the Group's strategy of becoming the best bank for customers.
'Highly skilled project managers'
"We face into a dynamic external environment which means we are constantly required to change and innovate. We constantly require highly skilled project managers to deliver such change."
Lloyds Banking Group believes the introduction of the Higher Apprenticeship in Project Management scheme will offer many benefits. First and foremost it will further build on their project management capability. By providing a more structured training programme it will help to reduce the time it takes to develop the required expertise with their project professionals.
The scheme also demonstrates the Group's commitment to continually develop highly skilled professionals that will help drive the organisation to become an employer of choice for the project management community.
By capitalising on the increased UK appetite for Apprenticeships it will also help Lloyds Banking Group to attract new project management talent and offer the next generation of project managers a great career, not just a job.
Lloyds Banking Group believes this visible investment in their employees' development will reduce attrition as a result. This increased support will inevitably and positively deepen the organisation's relationship with its staff. This will be done by the Higher Apprenticeship in Project Management scheme stimulating career progression through the provision of a training pathway that maps ongoing learning and development.
'Help Britain prosper'
Lloyds Banking Group's wider Apprenticeship Programme helps the Group further underscore its continued commitment to invest in the long-term economic future of the UK and the communities in which it operates. Kate added: "Building people's skills and supporting their career aspirations can make a real impact in tackling youth unemployment by providing many young people with their vital first real career opportunity.
"As one of the biggest employers in the UK our goal is to create a new generation of skilled worker to help Britain prosper."
A Higher Apprenticeship in Project Management, which is equivalent to the first year of a degree course, will provide aspiring young professionals with the opportunity to develop competence, skill and knowledge-sets and make project management a career of first choice.
The aim of the programme is to create new pathways into the project management profession, improve the management of projects and embed vital project skills in organisations throughout England.
If your organisation is interested in learning more about employing Apprentices please contact APM. Alternatively, for more information about the scheme please visit the Higher Apprenticeship in Project Management webpage.