Lord Mawson: Economic crisis is an opportunity [Video]
The problems of the present day, where there is a shortage of money, is actually an opportunity to think differently about project management, said Lord Andrew Mawson. The serial social entrepreneur, best known for his pioneering work at the Bromley-by-Bow Centre in East London, was speaking at the APM Conference in June.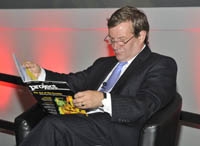 Making the most of the economic crisis does require people to think outside the box and form new relationships, according to Lord Mawson. The most important issue is learning to work together and building teams of people who know how to do so in creative ways.
Weve all got to move out of the silos, which have been inherited by the public sector and are often there in business, and learn how to join things up.
Lord Mawson closed the days proceedings at the APMs annual conference after Dr. Ed Hoffman, chief knowledge officer and director of NASAs Academy of Program/Project and Engineering Leadership, kicked proceedings off in the opening session.
The director of Andrew Mawson Partnerships finished off by saying: I was very interested in the new Health and Social Care Bill, which talked about integration, innovation and enterprise. Thats exactly right. Project managers have to discover how to deliver that.
Catch up: Watch all interviews with selected speakers from the 2012 APM Conference

Download available speaker presentations from APM Conference programme - more to follow