Managing projects across borders in East Asia and the Hong Kong AGM
The Annual General Meeting of the APM Hong Kong branch was convened in the evening of Tuesday 19th May 2015 at Royal Hong Kong Yacht Club, Kellett Island, Causeway Bay.  Mr. Steve Root, APMHK Chair welcomed all members and non-members to the meeting.  In his report, he kept the audience posted of the development of the Chartered Status, among others.  He stressed that APMHK was firmly committed to development and to improving the delivery of PM-related products and services.  Finally, the audience was urged to get involved and to contribute to the Branch development. The office posts of Chair, Treasurer and Secretary were elected, and all committee members were continuing to serve the APM Hong Kong Branch.  Special thanks went to Kevin Parry, who stepped down as Treasurer in March 2015 as he was returning to the United Kingdom.
Following the Annual General Meeting, the monthly event was held.  The presentation entitled "Managing projects across borders in East Asia' was delivered by Mr. Stuart Gethin, Associate Director, programme and project management at Arup with about 11,000 technical staff, including 468 Professional Project Managers over the globe.  It was well attended by forty odd members and non-members.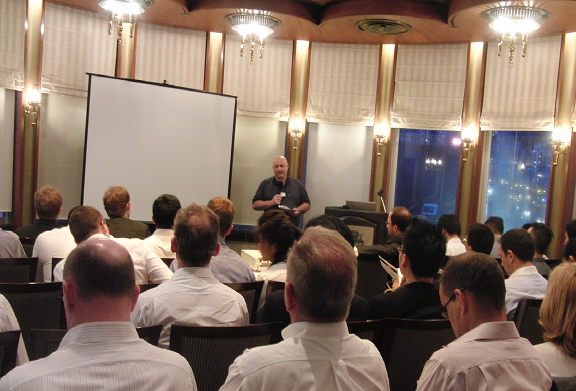 Stuart trained as a Chartered Civil Engineer in the UK and has over 22 years of experience predominantly in Asia.   In 2003, he returned to Asia to work on some of the largest construction projects of the world at that time.  He has spent the last 12 years leading design and construction projects in Hong Kong, Mainland China, Asia and the Middle East.  Against this working experience, Stuart was well placed to present on some of the characteristics and challenges of managing international projects.
The first part of the presentation concerned Stuart's private sector project management experience in Japan, Mainland China, South East Asia, including the Hong Kong Special Administrative Region.  The second part was about his lessons learned in managing cross-border teams/international projects, viewed from a western perspective and as a project manager.  This information was most useful for giving cross cultural projects greater chances of success.
Stuart firstly highlighted the important areas of cultural differences when delivering an international project across multiple countries.  It was not judged on nationalities and race, but based on differences in procedures and market characteristics.  In Asian countries, such as Japan and China, their cultural and social norms are collective and restraint, while in the west, they are individualism and expressiveness.  In the former, they are event/people oriented; while in the latter, time oriented.   Eastern countries pay special attention to relationships, harmony, conflict avoidance; while the counter-parts, on the other hand, focus on punctuality, clarity, confrontation.  The Eastern people are normally subtle, unwillingly to raise questions and embarrass others directly.  Closer consideration needs are given to tradition, and implementation of change is slower.  Long term orientation is commonplace in Asian countries with their Confucius religion.  They may see little value in the importance attached to short term deadlines and milestones.  Meeting deadlines, however, is a priority in the mind of other countries. 
Cultural differences can greatly impact international projects.  If the project manager can have a better understanding of a country's cultural differences and social norms, and the subtlety of the needs of such differences, he or she can gain great insights into how best to manage within that culture for success.  In quoting a few Japanese case examples of Dubai, JST, Stuart equated Japan to "Detail": There are Keiretsu (Japan's corporate governance system dates back to the 1600s), Chotto Muzikashi (Literally "it's a little difficult", but in practice "it's completely impossible), and they focus on details and meeting the deadline.  There are advanced designs, a selection of off-the-shelf specifications, but the system allows innovation and sits with contractors.  Likewise, Stuart equated China to "Relationships" or "Friendship", quoting projects in Putian, Heshan, Tianjin, Mingzhu.  The focus will be maintained on long term strategies over short term wins.  Particularly, for projects in Malaysia and Vietnam, relationships are more important than contracts, there is lots of red tape and ethnicity issues.  And the project progress is, therefore, even slower than China and Japan.  Turning to Hong Kong, the design planning is weak, but there is proper checking and reviews.  It is not uncommon to have over 50 initial approvals and amendment submissions for a project.  The processing time is too long.  In the premises, the Hong Kong SAR government and market actually restrict innovation. 
Stuart finally addressed adequately some important issues in managing cross cultural projects.  For design issues, a locally approved design company is needed to certify the design to be submitted to the local authority.  There exists a need for contingency should the local design fail to deliver.  It is therefore imperative to understand the approval process before procuring any local design firm.  For commercial and procurement issues, different countries have their own requirements for contracts. It is advisable to enter into the contract before the works commence.  Tax is also an issue.   Another challenge and global issue of international project management that will need to be considered is related to construction. There is a problem with standards, as standards differ from country to country.  The project manager cannot reply on local consultants in less developed countries for quality control.  Regular visits and progress meetings by the project manager with the main contractor are needed.   Finally, turning to people, process and system, Stuart suggested same key staff be kept throughout the project, the client organisation be understood, and senior management support be solicited.  Finally, a web-based document system is needed to be established.  The project manager needs to survive in different environments and to use a different management style to effectively engage with the project stakeholders.
To solve the challenges of international projects, in concluding, Stuart advised the audience not to spread the team all over the world, but minimise parties involved in the design development.  There should be a clear contract with well-defined project scope.  As discussed before, another key area of consideration is setting up regular meetings and conducting face-to-face review visits.  The secret is to stick to them with firm commitment. 
Joe Wong
Hong Kong branch committee member
Stuart Gethin has very kindly provided his presentation material.