Recognising the need to change: six signs

The APM Portfolio SIG has published the first in its new Managing the Portfolio thought leadership series, entitled Recognising the need to change: six telling signs. 
The series aims to provide practical insight into the role of portfolio management. This is a highly prized capability that brings the ability to balance organisational change priorities with operational activity to ensure that the overall strategy delivers.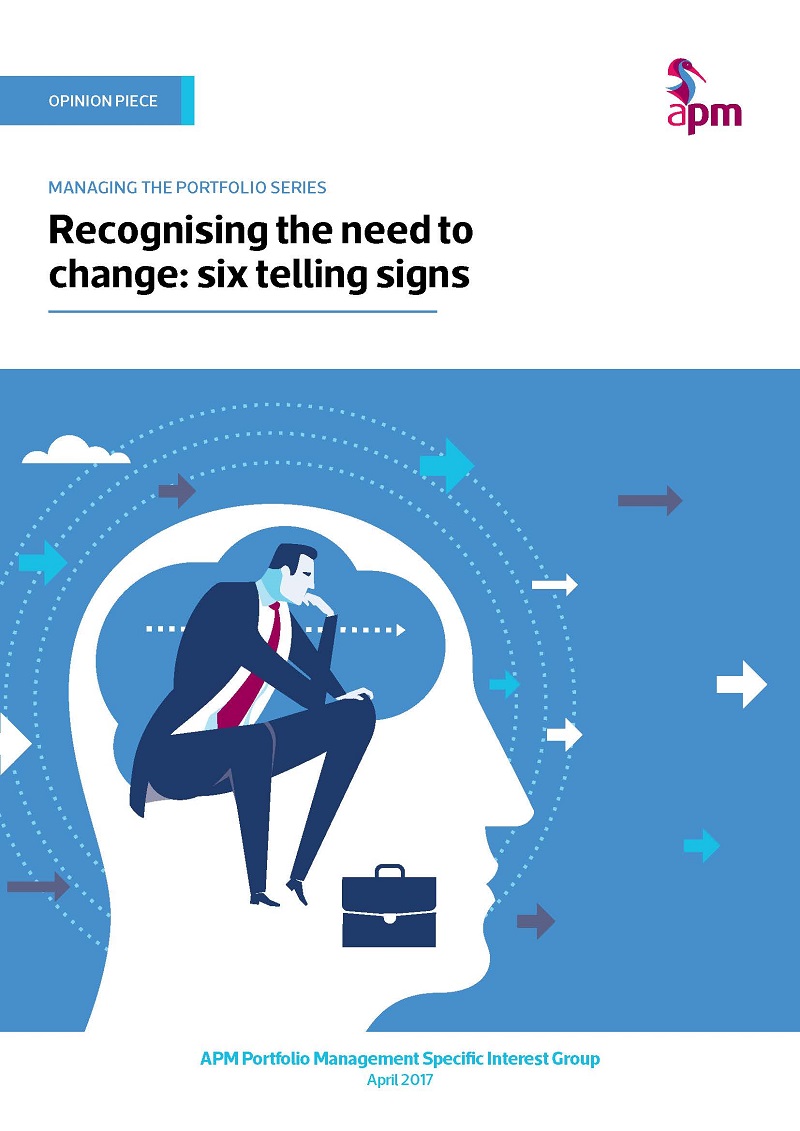 This series of reports will step through four key stages of thinking, providing meaningful insight into the practical issues facing leaders of change across all industry sectors. The reports challenge existing thinking and provide a fresh perspective on what makes portfolio management successful in delivering corporate strategy.

In today's world, organisations and senior executives face more and more challenges due to the increasing number and complexity of changes. Indeed, the business landscape across the UK and Europe is changing rapidly.

Author Peter Glynn comments, "The ability for an organisation to successfully balance change and operational priorities is critical to success – yet, for many, this continues to be elusive. There is a critical need to align overall investment in change with organisational priorities, against the backdrop of uncertainty. Although this may sound like a cliché, can organisations continue to invest in the hope that they get it right?"
The consequences are often seen in extra pressure on decision-makers, who are charged with utilising scarce change focused resources on the right priorities for the organisation. There is no silver bullet to address this challenge, and every organisation must seek the right answers within its own context and culture.
Recognising the need for effective portfolio management is the first step on the journey towards success; yet, so often, the symptoms or 'telling signs' are complex and caught up in a myriad of organisational issues that are not always evident to leaders, particularly those under pressure to perform.
"It's all too easy for organisations to settle into acceptance of current ways of working", explains Peter.
In summary, there are six telling signs that can highlight the need for effective portfolio management within an organisation. These are:
1. Lack of coordination or alignment to business strategy: Every organisation experiences changing priorities, albeit aligned to a coordinated business planning cycle. The challenge facing executive leadership is ensuring that the totality of the organisation's change successfully delivers the agreed strategy. 
2. Scope of programmes not clear or overlapping:  Where this is a recurring factor, it strongly indicates a need to holistically review and restructure the overall set of change, ensuring that programmes are aligned to the desired strategy to minimise critical inter-dependencies.
3. Behaviours that 'tell a story': Can senior leaders afford to ignore the impact of executive stress and negative behaviours during periods of intense or imposed change? The answer is clear and self-evident. 
4. Inability to quickly re-prioritise to changing circumstances: The ability to be successful is highly dependent on continually reviewing the strategic landscape and re-prioritising where this adds value. 
5. Inability to balance resources with projects and programmes: The two lifelines of projects and programmes are people and money; getting this wrong is the nemesis of all leaders of change. People, money and time are the three resource factors to flex on any project or programme. 
6. Ineffective communication on change and organisational priorities: Successful communication is the lifeline of effective change. Without it, organisations are reliant on hearsay and rumour, which can be destructive or, even worse, result in failure. 
Recognising the need for portfolio management is only the first step on a journey towards successful organisational management of change. 
For more details on the above six indicators, download the full report.
---