Mentoring project professionals - new ways of developing yourself and others
Dr. Penny Pullan facilitated an interactive event in Birmingham recently. Its aim was to explore the benefits of mentoring and to share experiences of setting-up mentoring initiatives. This came from an idea by Adrian Turner of the Midlands branch of APM, who hosted the event, with more than 30 APM members and guests present.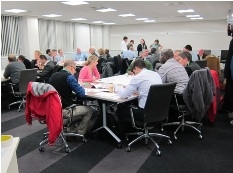 Penny decided to model the mentor's role by running a 'World Caf'. She split the group into five tables, each with six or seven participants. Penny posed questions for discussion while the 'host' of each group ensured that the main points were recorded on a large paper tablecloth. After fifteen minutes of discussion, everyone, bar the host, moved to different tables. There were three rounds in total, each with a set of questions:
 
What are the benefits of mentoring for (a) the mentor (b) the mentee? What are the benefits of different types of mentoring e.g. one-to-one versus group; face-to-face versus virtual; generalist versus specialist?
What do you expect of a mentor, mentee, the relationship? What happens if things go wrong?
How would you go about setting up or improving mentoring for project professionals for your organisation? What is your plan from here?
Each participant gained a different perspective of the evening, depending on the tables they joined. Here's Adrian's perspective: "There seemed to be much debate on the differences between mentoring and coaching, one suggestion being that mentoring focused more on experiential and work skills whereas coaching was more concerned with soft-skills and personal approach. A key point to emerge from the session was that setting objectives in advance is vital to managing expectations. Agreement of method and frequency of communication were also considered essential to a successful mentor-mentee relationship.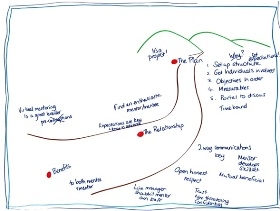 "The question 'What happens if things go wrong?' produced several suggestions in order to reduce the 'pressure' to continue, such as ensuring that a third party (i.e. the organisation) handles termination procedures. Ideally an employee should not be mentored by their direct line manager because of the 'political' conflict that this could potentially raise." Adrian's table concluded that setting-up an initiative should be approached as a project in itself with a time-bound plan and specific measurables.
At the end of the session, Penny asked each table to present three key messages which she captured visually:
Penny wrapped-up an enjoyable evening with a prize draw, with lucky members winning Penny's latest book "Business Analysis and Leadership: Influencing change" and several audio CDs on aspects of working virtually from her annual Virtual Working Summit.
Speaking after the event, Alex Papworth, Business Analyst at Lloyds Banking Group, commented: "Fascinating event on mentoring. The world cafe facilitation technique made for an engaging and insightful session. Thanks Penny for making it such a valuable session."
If you would like to see the full outputs of the session, including the notes recorded on each tablecloth, these are available from www.makingprojectswork.co.uk/mentoring