Microscope super project to benefit from 290m investment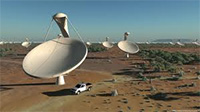 The UK government is to invest 290m in international science projects, including 165m to join the super-microscope project in Sweden. Science minister David Willetts will also earmark up to 100m to build the largest telescope ever built in South Africa and Australia.

Mr Willetts told the BBC that he wants the UK to be at the forefront of world-leading scientific projects.

He said: The investment will enable us to take a lead in major international research programmes, creating new industries and new jobs.

However, the science minister has received criticism for his plans, including from Dr Sarah Main, Campaign for Science and Engineering (Case), who believes that equipment and resources to carry out basic science in the UK should be prioritised.

She told BBC news: After years of tight finances, universities are feeling squeezed in their ability to provide good facilities on site and keep their facilities going.

Hes also agreed to join the European Spallation Source project in Lund, Sweden, which is a powerful microscope that will discover new materials for planes, ships, and batteries for electric cars.

These cash injections are possible because the Treasury last year announced plans to fund 1.1bn per year worth of capital expenditure, which can go towards building, equipping and maintaining laboratories, as well as subscriptions to international projects.

Mr Willetts hopes that the investments will lead to commercial contracts that could create high technology skills and jobs in the UK.