NEC4: The good, the bad, and the ugly, Part 2: Engineering & construction contract clause changes webinar, 21 November 2017
The NEC4 family of contract was completely updated in July this year. On Tuesday 21 November the second of this two part webinar series was published as an independent review highlighting the (mainly) good, the bad and ugly changes in the engineering & construction contract clause changes. Many are replicated in other members of the contract family, with a focus on the payment, programme, early warning and compensation event clauses.
The NEC family of contracts is now not just used widely in the civil engineering and construction industries, but also the power, water; oil & gas; IT and consultancy sectors both in the UK and abroad.
It's original objectives were, compared with existing contract forms, to:
be more flexible in terms of what it can be used for and the contract strategies that can be adopted;
have greater clarity and simplicity, so that it is easier to understand and use; and
stimulate good project management.
The review was presented by Dr Jon Broome who has been involved in the NEC's development since 1993 when he started the world's first PhD on it under one of it's co-instigators. While he was not involved in NEC4's development :
his contribution to NEC's development was acknowledged in the second and third editions,
he has authored the top selling and Amazon rated book on it,
is co-author of the only independent eLearning on it,
has given over a 1,000 days of training on all aspects of it and,
he had numerous consultancy assignment from 'front-end' contract strategy and drafting projects to 'tail-end' dispute and expert witness assignments.
While an enthusiast for the form, he is not blind to its deficiencies.
Jon is also the past Chair, and current deputy Chair, of the Contracts and Procurement SIG.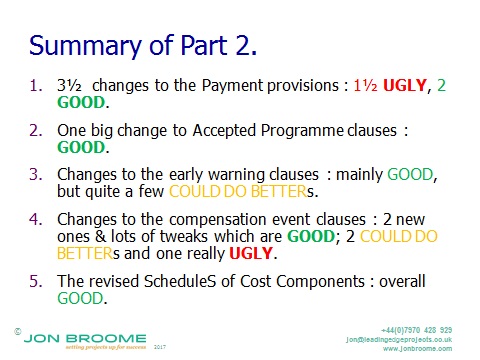 This webinar content is suitable for professionals with an intermediate level of experience.


As this was a pre-recorded webinar, to ensure that any questions you have on the content of either Part 1 or Part 2 can be raised, please can these be submitted by Friday 24 November at 14:00pm and Dr Jon Broome will compile his responses and these will be published here for you to access as an additional resource.
Jon has very kindly allowed his presented material to be made available for viewing.
The
slides
have been listed on Slideshare and the
webinar recording
on YouTube are now available in our APM resources area and also below for reference. 
NEC4 webinar series
Part 1: Contract strategy changes
The write up and resources have been published on Tuesday 14 November.