NHS change delivery resource offers evolution not revolution
Reform and the NHS is a hot topic at the moment but not all reform is controversial – or unwelcome for that matter.
Over the past 12 months a 'one-stop shop' for healthcare practitioners has won widespread support from senior leaders and frontline staff.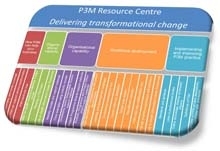 Known as the Portfolio, Programme and Project Management (P3M) Resource Centre, it has, for the first time, brought together materials, tools and guidance covering both organisational and workforce capability and capacity.
Tools include materials to support senior responsible owners, and guidance for project support offices. There are also role descriptions and a competence assessment tool to ensure NHS staff have the right skills needed to deliver successful projects and programmes.
Developed using the Association for Project Management's APM Body of Knowledge and APM Competence Framework, the P3M Resource Centre is at the heart of a strategy that aims to deliver transformational change in the NHS.
Its creators say it is about supporting the delivery of any change in the NHS.
"The resource centre has a large number of tools that are being successfully used by both established and emerging NHS organisations," says Sarah Briggs (pictured right), P3M Development Manager, DH Informatics – Programmes and Operations division. "We've developed this with P3M professionals in the NHS. We listened to what they want and developed resources that can deliver it."
"We are currently receiving a large amount of interest from emerging organisations that are looking to set up new organisational structures and frameworks, and develop their workforce," said Sarah.
The big challenge, therefore, has been to develop a product that works on a number of levels, not only to address the concerns of dedicated practitioners but also to win the 'hearts and minds' of sceptics with no prior knowledge of project management.
Fortunately, as more resources have been made available, and work-based case studies have been published, the job of selling project management has become a lot easier.
Ian White, Assistant Informatics Director at the Sheffield Teaching Hospitals NHS Foundation Trust, has successfully introduced the P3M competence assessment tool as part of the annual appraisal process.
He said: "I didn't think that what appeared to be such a complex tool could be applied in an operational setting – but I couldn't have been more wrong. After using the tool first hand, I was encouraged by how it can be adopted so quickly and effortlessly."
Others too have benefited from exposure to more professional ways of working. Corrina Casey is a Senior Programme Manager at North Bristol NHS Trust. She recently achieved APM Registered Project Professional status.
"The real benefit was that it gave me a framework through which I could reflect on my previous experience. That really helped me to link things that I had done in the past to my current programmes," she said.
The next step is to carry on building awareness and look to develop the scope and reach of the tools. It's not a cure for all the project ills, but it's a very positive start.