Olympic lessons learned for public sector construction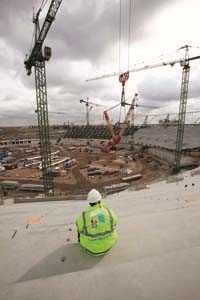 A major industry event aimed at improving the effectiveness, efficiency and value for money in the programme and project delivery of public sector construction projects is being held in Belfast on 5th March.
Jointly organised by the Construction Industry Group NI Professionals Council (CIGNI PC) and APM, the conference will take part at Newforge Country Club. It will bring together key public procurers of construction projects with contractors and consultants from the private sector who are engaged in the delivery of high levels of project performance.
Chairman of APM's Northern Ireland branch Leslie Warren outlined the significance of the event: "Delegates will hear from an excellent line up of conference speakers including Gerry Murphy, chief operations officer for the Olympic Delivery Authority (ODA), which acted for the UK government in delivering the infrastructure for London 2012.
The 2012 Olympic and Paralympic Games are widely recognised as an outstanding exemplar of a transformational public sector project that was delivered on time and within budget."
CIGNI PC represents the interests of over 6,000 professionals in the construction sector. Its chairman Sean Maguire added: "The public sector is the largest client of the construction industry in Northern Ireland.
We hope lessons learnt from the ODA experience will help with the challenges faced in delivering higher levels of project performance in the Northern Ireland context."
Other speakers include Gordon Alexander, former ODA director for programme assurance; Des Armstrong director of the Central Procurement Directorate at the Department of Finance & Personnel as well as Mike Browne, from UUJ and Honorary Fellow of APM.
The full-day event takes place from 8:30am at a delegate fee of 75. Advance booking is essential, email Sean Maguire or call 028 9076 5959 / 07796172418. See the list of speakers and their biographies.
The Construction Industry Group aims to promote excellence in all aspects of the construction industry and its Professional Council represents 16 professional bodies.
APM is an official Olympic Delivery Authority Learning Legacy Partner. Find out how APM shared the knowledge and lessons learned from one of the most successful British construction projects of our time by visiting the APM Learning Legacy webpage.
NI Government Departments recently announced a partnership with APM as professional programme and project management has become a key priority.