Olympic Stadium 'on time and under budget'
The London 2012 Olympic Stadium has been completed 'on time' and 'under budget', according to the Olympic Delivery Authority (ODA).
The final piece of turf has been laid on the field of play marking completion of construction of the venue, which began in May 2008.
The 80,000-seater centerpiece of the games came in £10million under budget at £486million. The project has employed 5,000 people from more than 240 UK businesses.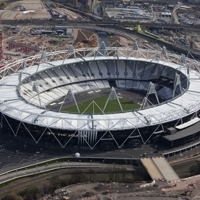 ODA Chairman, John Armitt, said: "The Olympic Stadium has been finished on time and under budget. To complete a complicated project such as this in less than three years is testament to the skill and professionalism of the UK construction industry.
"I would like to thank the Team Stadium consortium and all of the workers for their hard work and commitment. It is thanks to them that we can today celebrate this huge milestone for the London 2012 project and be proud of what can be achieved by UK plc."
The design and construction team was led by Sir Robert McAlpine, with Populous as the architect and Buro Happold as the designer of the civils, structural and building services work.
The final surface of the running track will be laid later this year by LOCOG, to ensure it is not damaged during preparations for the opening and closing ceremonies.