Overwhelming support for Crossrail 2 proposal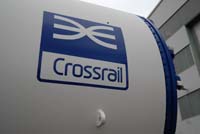 More than 95 per cent of people support the plans to build a new high capacity rail line in the capital, according to Transport for London (TfL).
TfL surveyed 14,000 people to get their views on the Crossrail 2 project proposals, which would link south-west and north-east London, passing through areas such as Turnpike Lane and Alexandra Palace. It aims to provide faster trains into central London while reducing overcrowding on the Underground.
The consultation also asked the 14,000 participants to state their preference for one of two proposed routes: The Metro an underground service operating between Wimbledon and Alexandra Palace, aiming to relieve congestion on the Northern, Piccadilly and Victoria lines, and the Regional route a combined overground and underground railway operating from Alexandra Palace and stations in Hertfordshire, going to various locations in south-west London and Surrey.
Eighty-four per cent of respondents support the Regional route, which will allow more trains to run on busy National Rail routes.
Mayor of London Boris Johnson said: People can clearly see the immense value of a project that will relieve pressure on suburban rail routes and on the Underground.
The key question now is not whether Crossrail 2 should happen, but how quickly can we get it built.
TfL and Network Rail will now further develop the proposals and present them to the Mayor in spring 2014, with Crossrail 2 due to be built by 2030.