Paper showcases London 2012 Learning Legacy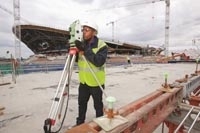 The Olympic Delivery Authority (ODA) has published a research paper showcasing the lessons learned from the London 2012 Learning Legacy project.
APM proudly partnered with the ODA, who won three APM Awards, to disseminate lessons learned from the construction of the London 2012 Olympic Park. Positive aspects and conclusive adaptations were identified all of which enhanced the overall success of the programme. These were then shared through a serious of events and resources as part of the Learning Legacy project. This informative paper looks back over the Learning Legacy project, conveying all the valuable good practice.
The Learning Legacy project aimed to raise the bar within the construction sector and act as a showcase for UK plc. This was done by creating a website that hosted all the documents containing the lessons learned.
As a dissemination partner APM became the third highest referrer to the Learning Legacy website therefore helping to encourage 43,000 visitors to make 60,000 downloads. Project and programme management became the second most popular theme on the website making up 17% of all downloads.
The paper provides key lessons learned and recommendations from the Learning Legacy itself and thereby acts as a guide to sharing knowledge from future projects. Some key highlights include:
50% – construction project was almost 50% complete when the Learning Legacy was initiated
43,000 people have visited the Learning Legacy website to date making 60,000 downloads
35% of all visitors to the Learning Legacy website were from outside the UK
327 Learning Legacy documents produced, with more in production
600 – the number of research interviews undertaken across the programme
50+ dissemination events were run by 10 industry partners, reaching over 4,000 professionals
ODA chairman John Armitt winner of the 2012 Sir Monty Finniston Award said: "We believe this is the first time that anyone has sought to capture on this scale the experience and lessons from taking a project of the size forward quickly before it is lost."
Paul Morrell, who is chief construction advisor at HM Government and also will be speaking at an upcoming RICS and APM Project Leadership Conference, said: "The ODA has provided a model for success that is transferable to other UK construction projects."
Download the Learning Legacy paper to find out more about the most proficient practices to use that could help to ensure that all future projects succeed.