Personal resilience: Rising to the challenge of project management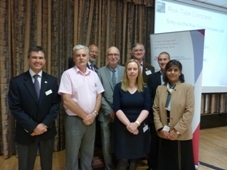 On Tuesday 18th September the South Wales & West of England (SWWE) Branch hosted the People SIG for the full day event 'Personal Resilience: Rising to the Challenge of Project Management', as almost 70 delegates listened to four speakers exploring Resilience from a range of approaches.

The day started with an exploration of Personal Resilience from a psychological stance, focusing on the human rather than the technical aspects. Chartered Psychologist and visiting Professor of Psychology at Northumbria University, Derek Mowbray took the floor first – explaining the different levels of pressure that are commonly grouped together as 'stress', and identifying the stages of 'engagement', 'presenteeism', and 'escape' which individuals can experience in the workplace. After completing a personal Resilience Assessment Questionnaire, delegates were given a number of short exercises that can be used to heighten self-awareness and improve self-control.

The second speaker of the day was Chartered Psychologist Geoff Trickey, who invited us to look past the 'tick-box' assessments of individuals and ask 'Who's in the Box?' Starting with the foundation of individual nature, which 'anchors' the nurture of experience and is further influenced by the situation and circumstances, using new research methods Geoff explored the way that personality influences an individual's appetite for risk and capacity for resilience.

In the first of the afternoon sessions, Ranjit Sidhu focused on developing the resilience of teams and the wider organisation. With the Titanic disaster as a case study, we examined what can happen when team building processes and frameworks are overlooked and the pressure and stress levels increase.

The fourth and final speaker, 'Risk Doctor' David Hillson, presented 'How to be a Successful Failure', offering a structured response to the failure that is inevitable if we seek to push boundaries and go further. By using a failure to start a cycle or Reflecting, Learning, and then Persisting, we can find failure to be a positive learning experience.

The key theme of the day was self-awareness as the starting point for building resilience and the event explored an emotive topic with a degree of objectivity. Participants learnt to recognise a number of potential causes of stress (both personal and organisational) and took away several methods to enhance resilience.
Alastair Smart
People SIG committee member