Petrofac achieves corporate accreditation
Petrofac has become the first dedicated oilfield service company in the UK to achieve APM Corporate Accreditation, for its Projects Academy Development Programme.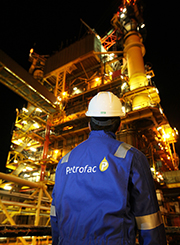 Petrofac is a leading FTSE 100 international service provider to the oil and gas production and processing industry, with a diverse customer portfolio including many of the worlds leading integrated, independent and national oil and gas companies.

Petrofac designs and builds oil and gas facilities; operates, maintains and manages facilities and trains personnel; enhances production; and, where it can leverage its service capability, develops and co-invests in upstream and infrastructure projects. Petrofacs range of services meets its customers needs across the full life cycle of oil and gas assets.

Petrofac, through a business improvement programme, recognised the need to advance its project management capabilities and offer a benchmarked level of service to its customers. Already an APM corporate member, Petrofac was supported by the organisation to launch its Projects Academy Development Programme a Centre of Excellence that would provide a more focused and organised approach to the function, aligning to APMs Competence Framework to ensure a standardised level of quality and professionalism.
Personnel who join the programme undergo competence assessments to help establish an individual development and training plan that will help progress their professional skills and highlight opportunities for promotion. The programme also provides personnel with resources and support to achieve the four most widely recognised APM professional qualifications available to personnel according to their level of practical experience and their existing skills and job requirements.

Petrofacs level of commitment to develop its programme and improve its professional capabilities was clearly demonstrated to APM, who awarded Petrofac the highest possible assessment score of 25 a first for any organisation to achieve.

This achievement is significant for Petrofac as it not only demonstrates its commitment to providing the highest standard of service to its customers, but to the ongoing development of its most important asset its people.



Alan Craggs, Project Management Technical Authority, Petrofac Offshore Projects & Operations said: Our development programme forms the core of our project management function; it secures a solid foundation of experienced professionals, while also highlighting any need for further training and skills development. With the programme achieving accreditation, it demonstrates our commitment to training our personnel, which in turn, will provide a best-in-class project management function to service our customers and the wider oil and gas industry.

We can now go to market and showcase our Projects Academy Development Programme and really demonstrate the value we deliver.



Adam Cheesman, Project Manager, Petrofac Offshore Projects & Operations said: I have personally progressed through the various levels of the APM programme over the last few years and it certainly provides an excellent framework for successful project management. I can also see my team members growing in confidence as they progress through the various levels of the APM programme.

Now that we have received our Corporate Accreditation it sends a clear message to our current and future customers that at Petrofac we continually strive for project management excellence through both our procedures and most importantly our people.