Planning of Major Infrastructure Repairs – the Tamar Bridge webinar
The Tamar Bridge needed significant repairs and this would have to be undertaken during the period of peak use. This webinar was held on 15 February 2022.
The planning and management of such works needed to be carefully undertaken to minimise the impact on the public and local businesses whilst achieving the full scope of the project in the required timeframe.
Richard has very kindly allowed his presented material to be made available for viewing. The slides on Slideshare and the webinar recording on YouTube are available in our APM resources area and also embedded below for your reference.
Speaker
Richard Cole, BSc., MBA, I.Eng, M.I.C.E., M.C.I.H.T., Engineering Manager, Tamar Crossings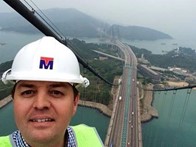 A manager and civil engineer with over 23 years of experience in the field of civil engineering, Richard has worked for major civil engineering contractors and engineering consultants and is Engineering Manager at Tamar Crossings. Since graduating from University of Plymouth Richard's has been involved in a wide range of projects including commercial diving and marine works, major road schemes, bridges, tunnels and earthworks.
In his current role, Richard has overall responsibility for managing the engineering, construction, maintenance and inspection functions at both the Tamar Bridge and shore facilities at the Torpoint Ferries. Significant projects have included electronic toll collection, Rendel Park ground remediation project, Tamar Bridge access gantry principal inspections, bridge resurfacing project, illuminated lane studs project, permanent bridge access improvement project, Tamar Bridge recoating project, bridge office development project, bridge main cables and suspension system remedial works project, bridge kerb and waterproofing remedial works. The total value of these projects is approximately £40 million.
He is a member of the Institution of Civil Engineers and the Chartered Institute of Highways & Transportation, a delegate and presenter and International Cable Supported Bridge Operators Association conference and has co-authored several papers on structural health monitoring, bridge maintenance and bridge inspection.
This event is suitable for professionals with any level of experience.
Previous webinars can be viewed on the APM Slideshare and YouTube channels. 
Follow @APMEvents for upcoming event information.


APM Body of Knowledge 7th edition reference

Section
Description
3.3.6
Continuing professional development (CPD)