Political pressure, high churn and 'benefits' hunting: government report reveals the challenges of public sector megaprojects
An interim report on the management of government projects has offered an insight into the unique challenges that project managers face in the public sector.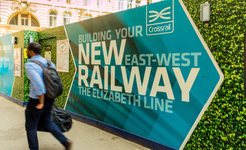 The Public Administration and Constitutional Affairs Committee launched an inquiry into government projects in the wake of high profile delays of megaprojects such as Crossrail and High Speed 2 (HS2). The interim report was issued last week after the General Election put the inquiry on hold. The Association for Project Management provided written evidence to the committee as part of the inquiry.
The projects in the Government's Major Projects Portfolio (GMPP) are measured using a traffic light system as part of a Delivery Confidence Assessment (DCA). 'Green' projects are likely to be completed on time and budget, while 'red' projects appear to be unachievable. 'Red' and 'amber/red' projects are on the increase, while the number of 'green' projects has fallen from 40 per cent in 2013 to less than 20 per cent in 2019.

This is partially due to the more successful projects leaving the GMPP, leaving the more complex and riskier projects behind. However, the report cites three clear challenges that hinder the success of government projects.
Project planning and assurance
While successive governments have put extensive assurance and appraisal projects in place for major projects, including a Project Validation Review by the Infrastructure and Projects Authority (IPA), projects are still overrunning or going over their budgets.
To an extent, the complexity and level of risk involved in some of the projects make them extremely difficult to plan for, but there are human factors that are skewing projects. Professor Bent Flyvbjerg of University of Oxford's Saïd Business School told the committee that "those with an interest in the project proceeding have an incentive to minimise the predicted cost and time of a project, whilst maximising predicted benefits, in order to give it the best chance of proceeding."
This underpins Professor Flyvberg's paper on the iron law of megaprojects: that they overrun on cost, time and underdeliver the anticipated benefits.
In addition, political pressure can result in a project being announced before a proper appraisal or any planning has taken place. Nick Davies, programme director of the Institute for Government (IfG) told the Committee: "Once certain decisions have been made, it can be difficult to cancel a project. Individual ministerial careers can be bound up in getting projects through; sometimes you do not want to be the person who has rocked the boat."
"It is entirely appropriate for Ministers to initiate projects," the report states. "But if political pressure is sufficient to override this early scrutiny process, this will significantly impact on the successful delivery of major projects."
High project churn
The Civil Service has highlighted the problem with high staff churn, with officials rapidly moving from post to post. While it's expected that personnel will change on long-running projects, "a rapid turnover of staff has been highlighted as contributory factor in a number of major projects where problems have arisen, including Universal Credit."
The churn rate among senior responsible owners has fallen in recent years, but there are other issues in play that complicate matters, such as the fact that churn is high across the Civil Service in general: "There is also a need to consider what conflicts of interest can arise as a result of this churn."
Hannah Vickers, chief executive officer of the Association for Consultancy and Engineering, said that the government should not focus exclusively on the rate of churn – rather, governance should be improved to ensure that projects aren't overly reliant on individuals.
'Benefits hunting'
There is a disconnect between the apparent scrutiny that projects are at planning stage and the benefits realised at project completion. Often, 'benefits' are conjured up during a project to justify its continuation – a phenomenon that Professor Michael Lewis, Professor of Operations and Supply Management, University of Bath School of Management, describes as "benefit hunting."
"Projects should be there to address a need and, having decided to address a need, you should then think about how to address it," Professor Terry Williams of University of Hull told the Committee. "There is quite an emphasis on, 'Here is a solution and this is a solution we will use' and then thinking about how it addresses a need."
HS2 was cited as an example of this: "The IfG note that it has variously been presented as a means to reduce journey time, of increasing capacity to meet growing demand and a vehicle for regenerating the West Midlands. It may, of course, be all of those things but it hints at retrospective justification for a controversial project."
Professor Williams added that the IPA's emphasis was more on delivery than benefits, to an extent that benefits were not necessarily prioritised. "There is less priority put on that than the actual delivery of the project." The Committee has recommended that more ongoing evaluation takes place to ensure that true benefits are realised.
Training
The report also praises efforts to improve the project management skills in the Civil Service. The Major Projects Leadership Academy, provided in conjunction with Saïd Business School, has enrolled 600 people, while the Project Leadership Programme, delivered with Cranfield University, has trained more than 1,000 civil servants.