Portfolio Management SIG September 2015 newsletter
I was very pleased that at the SIG's AGM in June we almost doubled the size of the committee for 2015/16, with 12 of us now devoting some of our spare time & energy to taking the SIG activities forward to achieve the goals we set ourselves.

If you haven't already done so you may want to take a look at our write-up of the SIG's AGM, held in June, where you can also view Robert Buttrick's very entertaining presentation.

As a committee, our main focus is aimed at delivering on the SIG's aims whilst incorporating many of the ideas that have come through from member feedback, especially after major events. These cover three perspectives, with many activities spanning more than one:
providing members with latest thinking and real-life Portfolio Management (PfM) experiences
seeking ways to improve the understanding of PfM at the executive level
promoting the role of PfM within the world of change management
You will see from the 2014/15 report at the AGM, and our plans outlined below, that the efforts of everyone involved are seeking to create as many opportunities as possible to discuss, develop, and promote portfolio management practices.

Our two very successful conferences in 2014 and 2015 have been the highlights of this endeavour, out of which much new PfM material has been generated. The task of making that rich resource more readily available for the benefit of SIG members and others remains one of our ongoing challenges and we are addressing both by working with the APM to improve access to information and by working with the help of our SIG volunteers to collate, organise and index the material.

Please look out for announcements advertising our future events and activities, including our 2016 conference planned for late April/May, and do come along and join us when you can. I am also planning to arrange at least one event outside London to extend our reach.



If you wish to get a bit more involved in helping shape and deliver our SIG plans, please consider joining our small band of Committee Support Volunteers (CSVs). This group help with specific activities without having to commit at the level of full Committee members.


Stephen Parrett
Portfolio Management SIG chair
---

2 - Review of last year's success
At the beginning of the 2014/15 year we reappraised our PfM SIG strategy and planned a series of activities and events to achieve the outcomes and goals we had set ourselves. Our strategy is described more fully in the next section in this Newsletter.

This year we have focussed on three strategic themes - developing new knowledge, disseminating knowledge and engaging with our SIG members - and made significant progress:
2.1 Our internal research programme with our CSVs to develop new knowledge.

We have already generated over 50 links to articles and papers relating to key portfolio management challenges identified by you, our SIG members, at the 2014 conference and subsequent events. This research programme is continuing and we plan to summarise the findings towards Christmas.
2.2 Our 2015 conference, themed as "Portfolio Management - making it work for you and your organisation".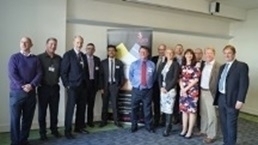 This followed on from 2014's theme of "Creating and sustaining an environment for success" and we had 93 attendees, a 15% increase over 2014, and an excellent and varied set of speakers, judging by your feedback, who explained in some detail how they managed their national and global portfolios. It was also gratifying to see a broader mix of attendees this year with significantly more of you who are actually managing and running portfolios within your own organisations.

For more details here is a summary of the conference.

2.3 Our guest speakers providing valuable insights on how different organisations and business sectors manage their portfolios.



John Bennett explained the intricacies of a "drug development portfolio", Euan Dean demonstrated "keeping portfolio management fresh at IDBS" and Rob Buttrick's "Success, maturity, matrices and portfolios; break out from your organisational chains" provided an excellent basis for debate. These all added considerably to our PfM knowledge.
2.4 Engaging more with our SIG members and the wider APM

In addition to our volunteers' research, the 2015 conference and events, we also conducted a PfM survey and participated in APM's showcase:
Portfolio Management Survey



We have some fascinating insights so far, and early indications are that prioritisation and balancing of the portfolio, and delivering the overall portfolio benefits are far and away the biggest challenges. These will influence the topics at our events and conference.



APM presents (Oct 2014)



This was another opportunity to promote PfM, at which Stephen Parrett and Steve Leary gave a short overview of portfolio management and the work of the SIG. This led into a discussion about the challenges and potential solutions to PfM problems that participants were facing.

Further information can be found here.
2.5 Portfolio management material

We now have about 60 high quality presentations addressing most of the challenges that organisations face with delivering their strategic goals. We now want to make these more accessible and, with the help of our CSVs, we have already started indexing them. More news on this shortly.

Overall a very successful year with much progress towards our aims and goals.
---

3 - Strategy going forward
So, what are we planning for this year?

We are continuing to focus on collating and indexing our 'library' of portfolio management techniques and success stories. We have a mass of comprehensive information and want to share that with you, but in a way that's easy for you to access.




Our SIG also intends to build closer ties with the other SIGs and the branches – we will be embarking on a programme of coming out to branches to outline portfolio management and in particular understand the challenges people are facing so we can make sure we address them and ensure our work is directly relevant to you and your organisations.




This year we are also planning to hold a CxO event – maybe a breakfast meeting or similar – to discuss with them ways of improving organisational performance through portfolio management and explaining the benefits. Your thoughts on this will be valuable please as we need to do more to capture the attention of CxOs and engage with them on things that really matter to them.


That's our main highlights for now; with your support, we'll hope to have many more for the next edition of the Portfolio Management SIG newsletter!
---

4 - New for 2015/16

2016 Portfolio Management Conference - Thursday 12th May 2016

Preparations are getting under way for our next conference. We have been carefully reviewing the feedback from the 2015 event, and are planning to make our next one even better. We are currently getting our speaker list together and considering suitable venues.



Our events are going digital!

To ensure relevant, accessible information on portfolio management, we will be trialling our first Webinar event in the very near future –look out for details soon.

For all the latest information please see our Events page for details of all our upcoming events - let us know what topics you would like to see.
Extra, extra! Read all about it

A summary of the Portfolio Management SIG conference in April has been published in the Autumn issue of Project magazine. It highlights the subjects and speakers, with examples of the successful experiences presented which covered a diverse range of factors required for effective portfolio management.

Also in the Autumn issue of the Project magazine is a feature by SIG Committee member Paul Morgan based on the presentation 'From Local to Regional Portfolio Management' outlining how one major organisation went global with portfolio management.
---

5 - Competition
Win a "surprise" box of late summer refreshments if you take part in the SIG Portfolio Challenge.
To enter all you have do to is…
come up with a novel way to get CxOs more interested in portfolio management
email the Portfolio Management SIG including the proposed subject and reasons why it would be interesting to a wide audience. Entries should be no more than 100 words.
The Portfolio Management SIG Committee will select the winning proposal in October and inform the winner, so please get your entry in by 30 September!
---
The PfM SIG would appreciate any comments or feedback you have on our newsletter - let us know whether it was useful, and what you would like to see in future editions. Email portfoliosig@apm.org.uk