Portfolio, programme and project management professionalism in the MOD
MOD deepens its commitment to project professionalism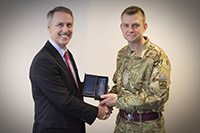 Brian Willis Award winner WO2 Allan Fox was finally able to pick up his APM Project Management Award trophy almost six months after his success was announced at the associations awards dinner on the 4th November last year.
The award, sponsored by BAE Systems is for the candidate achieving the highest mark for APMP - The APM Project Management Qualification. Allan heads up the Regimental Construction Supervision Cell of 26 Engineer Regiment, a small team of construction specialists providing technical assistance to their Commanding Officer as and when required. A typical task is to assist Royal Engineer Squadrons deploying on overseas construction exercises said Allan, who eventually received his trophy after missing the ceremony due to his deployment to the Laikipia Airbase (East) Infrastructure Development Programme in Kenya.
Last year we deployed on a three month tour in which 30 Armoured Engineer Squadron completed the phased construction of a communications block, a Locally Employed Civilian (LEC) welfare facility and a small guardroom.
My role here is to supervise planning activity by commanders ensuring that construction tasks are delivered on time within budget and to a suitable standard. The qualification has definitely given me additional knowledge and enabled me to advise and assist where necessary.
I am very proud to have won the award and would certainly advise my colleagues to take the course and I believe there is quite a waiting list within the Royal Engineers.
Allans success is another demonstration of the Ministry of Defences (MOD) continued commitment to project professionalism.
MOD Head of Profession
The department is responsible for a budget of 34.3bn a year, the fourth largest government budget representing 8% of all UK government expenditure . A significant proportion of this expenditure is on capital projects, but defence also has a number of significant business change projects and programmes.
Defence Reform has a dedicated workstream focussed on embedding P3M and P3M professionalism into the department and as a result, the demand in MOD for these skills has never been greater and the civil service capabilities plan has increased the focus on the development of project, programme and portfolio management (P3M) professionalism across the Civil Service.
MOD has a long association with the APM; it has been a corporate member since 2005 and has over 1000 individual members making it one of the largest employers of project professionals in the country. With APM qualifications forming the bedrock of project management training within the department; MOD also utilises the APM Competence Framework as its P3M corporate competence assessment method.
This dedication to the development of professionalism within the department has deepened further still. In September, Dr David Marsh was appointed MOD Head of Profession for Portfolio, Programme and Project Management alongside his role as the Programme Director for the Defence Infrastructure Organisation Strategic Business Partner Implementation Programme. A strong advocate of MODs involvement with the APM, David had previously undertaken the head of profession role for several years up to 2006. During this time he oversaw the introduction of the MOD Project Management Licensing scheme and Development Programme which led to the training and professionalisation of over 1200 P3M professionals.
In his role as Head of Profession, David is responsible for providing strategic oversight of skills development for the function. He works with business unit heads, line managers, heads of other MOD professions and other departments, corporate HR, training providers, as well as organisations like APM, to improve MOD P3M capability.
DE&S achieves Corporate Accreditation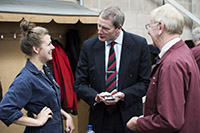 Defence Equipment and Support (DE&S) received APM Corporate Accreditation last October, which has enabled it to assess its development strategy against the APM FIVE Dimensions of Professionalism. This has allowed them to check they are, as Director Technical within the DE&S, AVM Young says broadly doing the right things in the right way and, where we can, improve further in the future.
AVM Young has been in post since December 2012. One of his many roles is the DE&S Programme and Project Management (PPM) Skills Champion with specific remit to promote and improve the professionalism of DE&S programme and project managers. This includes ensuring a clear structure is in place for the development of project managers, and that training and CPD opportunities are maximised.
Although still early days, APM Corporate Accreditation has allowed us to demonstrate to our current community of programme and project managers that we are serious about knowledge and expertise, and therefore their development as project professionals. In addition, we are in the process of recruiting new people into the organisation. To date we have made over 150 new project, programme and portfolio appointments since May 2013 with more targeted for 2014. APM Corporate Accreditation demonstrates to candidates that we are an organisation that values PPM competence and that, if they choose to join us, we will develop them in the function.
We have developed a much stronger governance structure for project managers and their development across the whole organisation with key leadership roles identified and a dedicated team focussed on improving competence and professionalism. A PPM Professionalisation Forum made up of senior leaders from across the organisation meets regularly with the specific aim of ensuring PPM Development remains high on the agenda, and to manage better the professionalism and workforce planning opportunities of the PPM function so they can be addressed in a coherent and consistent manner. Our alliance with the APM is making a difference.
Defence Academy achieves APM Accredited Training Organisation status
In addition, the Defence Academy, MODs internal training and education provider, has gained APM Accredited Training Organisation status for its blended learning approach to project management training. This suite of training takes members of staff with little knowledge or experience in project management through to achievement of the APMP qualification.