Prizes for students at the University of Huddersfield
A Nigerian post graduate student has been awarded an APM prize for Best APM Student on the University of Huddersfields MSc Business Project Management course.
Shahir Buhari Sani, from Kano, Northern Nigeria has been studying at the Huddersfield campus for a year and the APM prize was presented on November 14th.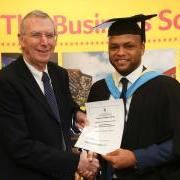 Drs John Anchor, the Head of Department of Strategy and Marketing, and Walter Mswaka, the Senior Lecturer in Business Strategy, welcomed family members and visitors attending the prize giving and stated Our relationship with local businesses and professional bodies is crucial to the health of the school and the reputation of our graduates.
Shahir who previously studied in Istanbul from 2010 to 2012 has been looking forward to returning to Kano in December 2013 and putting into practice the project management skills he has learnt while at Huddersfield...
Ken Platts
Yorkshire & North Lincolnshire committee member and HEI representative