Process Improvement and Change Management, 29th October 2015
On 29th October, Carl Halford and Elisabeth Goodman presented a seminar on behalf of the Enabling Change SIG to a packed room in Reading.

The seminar began and ended with an introduction to the SIG.

Carl gave an overview of his considerable experience of process improvement methodologies in relation to change, and of Lean and Six Sigma in particular.

Elisabeth shared an example of one of her case studies involving training, mentoring and supporting a client through an extensive 'operational excellence' programme.

The attached slides cover what was presented at the seminar. The following notes reflect some of the exercises and discussion.

There was a lot of experience in the room of continuous improvement and change projects

It was clear from a show of hands, and from the questions and comments raised, that something like 50% of those present had either led or were leading continuous improvement projects, and a similar number had experience of change programmes. Only about half a dozen though claimed to have led both.
One of the points Carl made, which was corroborated by Elisabeth's case study, is that process improvement, change management and project management are all inter-twined. To be successful at process improvement requires skills in both change and project management.

Lean and Six Sigma tools can also help with team building!

Carl introduced a breakout exercise using the Kano model to identify the 'must haves', 'more is better' and 'delighters' for a dry cleaning business! It was clear that the delegates could offer some powerful insights on the subject – as illustrated by these photographs of the output.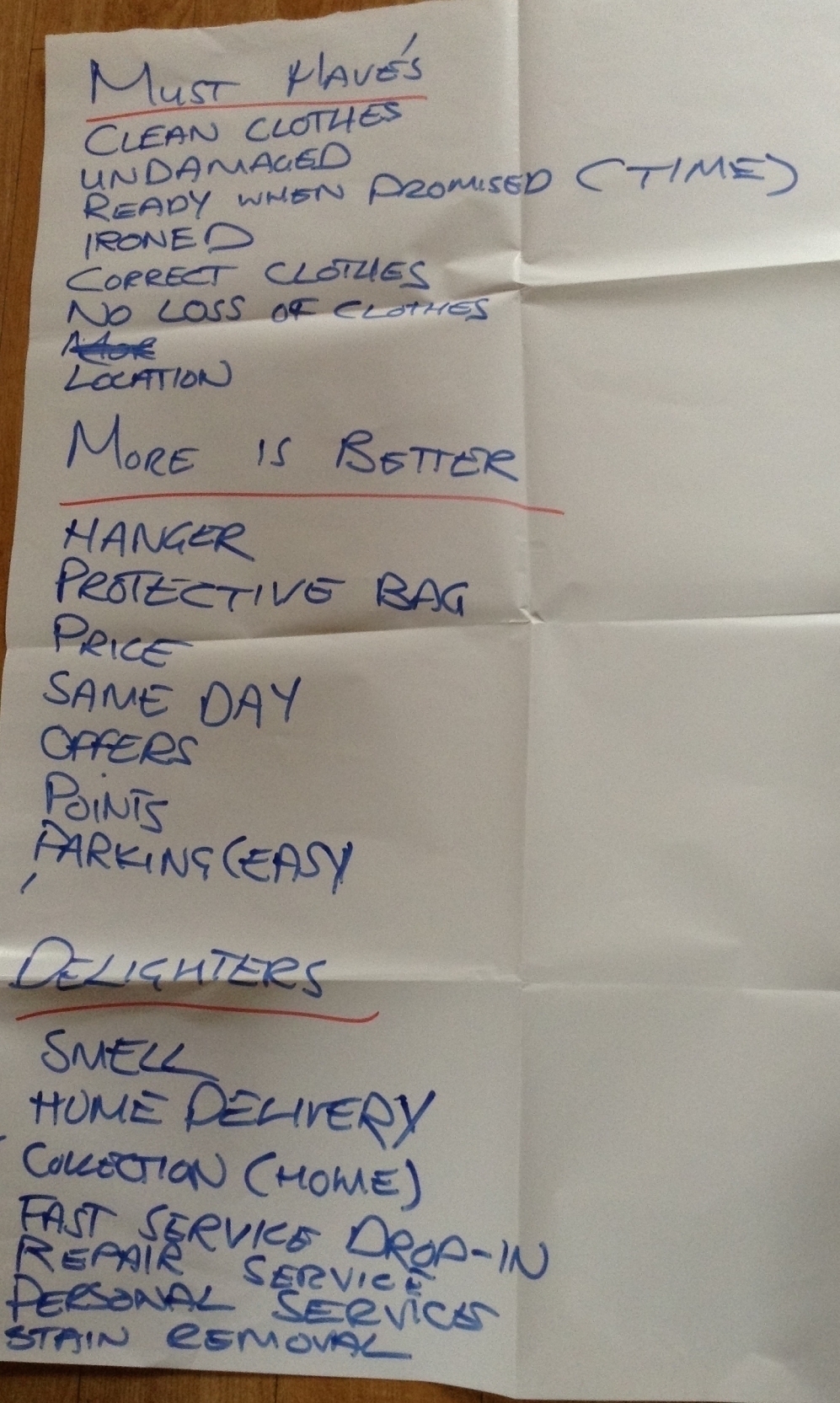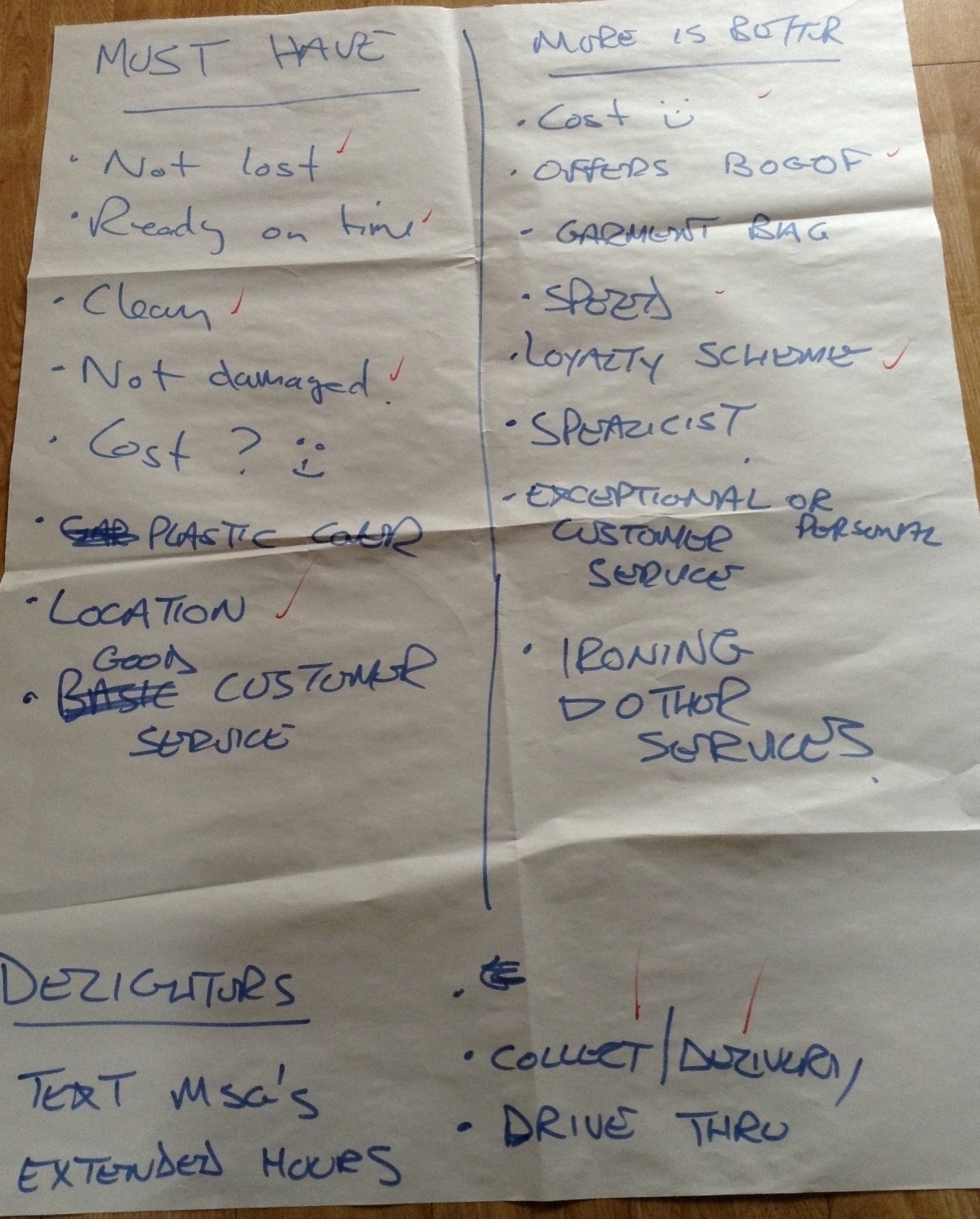 In practical terms, the Kano model can be very powerful, not only to help a team understand their customers' expectations, but also to facilitate a discussion within the team on what would contribute to their project's success.

Factors contributing to the success and challenges of process improvement projects or programmes

Delegates were asked to consider what these factors might be as they listened to Elisabeth's case study. Many of those they identified would be true for any process improvement project or programme.

Factors for successful process improvement programmes could include:
Having a change agent in place, and the right person for this. For example someone who is well connected and well regarded within the organisation
Communication, communication, communication with those affected by the programme – face-to-face if possible
Finding process improvement projects that matter to those involved in order to achieve strong engagement and powerful success stories to share
Finding ways to engage effectively with customers / clients
Providing visual updates in prominent places
Building the capability to sustain and embed the new ways of working
Potential challenges for process improvement programmes could include:
The culture within the organisation – are people empowered / do they take ownership and leadership for their work?
Other cultural / language barriers
The base line level of customer engagement
Dealing with a range of concurrent change activities
Any cost-cutting / head-count reduction exercises happening at the same time that might adversely affect people's perception of continuous improvement programmes
The lack of in-house skills
Concluding thoughts

As with other opportunities that we've had to share the work of the Enabling Change SIG, we hope that people might choose to join the SIG and participate in our pilot of Spark Collaboration, and/or in our research project on enabling change.
We very much enjoyed our session with the Thames Valley branch, and hope that we, or other colleagues in the SIG, will be invited back in 2016-17. Do get in touch if there are specific topics that you would like us to explore with you.