Profile of a volunteer - Innocent Chimagwu Ebulu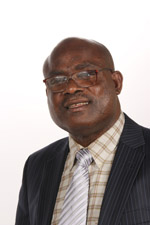 Name: Innocent Chimagwu Ebulu
Membership grade: Full Member (MAPM)
Volunteer role: Committee Member – APM Yorkshire & North Lincolnshire Branch

1. Why did you decide to become a volunteer with APM?

Firstly, I have been a member of this branch since 2010 and have actively attended most of the events, activities and programmes such as lectures, seminars, workshops etc. In one of his e-mails to me, the chairperson of the branch wrote. "In addition you have always made a positive contribution to all of the events you attended with your questions".

At a time I really became very passionate and wanted to get directly involved as part of the team to continue the excellent work, shaping the future, strategies, and making positive decisions for the branch. I wanted to contribute my knowledge and experience no matter how little it maybe in initiating events, activities, programmes to enhance the strength, development and the running of the branch.

Suddenly, there was a call for volunteers to join the branch. Following that I immediately contacted the chairperson of the branch to express my interest to volunteer to be part of the committee member and I was quite encouraged to join which I did and so far it has been rewarding.
2. What benefits have you gained from being an APM volunteer?

The opportunity to have regular meetings with projects managers within the Yorkshire and Lincolnshire whom I couldn't have known, the interactions, knowledge sharing especially about various APM activities and learning new skills such as organizing events, lectures, seminars, workshops and the strategies of how to identify and selection of suitable speakers for a particular topic, and the criteria for the choice of location to host the event, these have been some of the benefits.

Secondly the privilege of getting directly involved in initiating events, lectures, training programmes, workshops and being part of the team that are involved in supporting students and Higher Education Institutions within Yorkshire and North Lincolnshire is overwhelming.
3. What would your top tip be to an APM member looking to become a volunteer?

Please find the time to get involved, it is a lifetime and worthy experience, to contribute your quota no matter how little for the continuous development of the profession. You will be happy you did.
Find out more about volunteer opportunities with APM.