Profile of a volunteer - Neil Runciman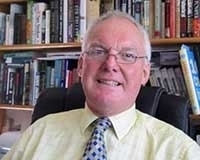 Name: Neil Runciman
Membership grade: Fellow
Volunteer role: STEM Ambassador

1. Why did you decide to become a volunteer with APM?
After a successful career as a Project, Programme and Change manager, which I have thoroughly enjoyed, I am struck forcibly about the lack of knowledge of what project managers actually do in the teaching profession and therefore as a career option for school children, this is my attempt to rectify that situation. I have seen the benefits as teams of school children have delivered their project for the BOC Environmental challenge in "How to measure the carbon footprint of their school/college and make it greener".
2. What benefits have you gained from being an APM volunteer?
Forced me to work on that essential project manager 's skill of imparting complex ideas in a simple easily understood way, minus the jargon, etc. I have met many dedicated teachers and left them with another career choice to offer the children they teach, also a career with a standing and professional status.
3. What would your top tip be to an APM member looking to become a volunteer?
Be enthusiastic about project management, remember how little you knew about project management when you were their age and talk to them as equals, you will be amazed at the knowledgeable questions that children ask.
Find out more about volunteer opportunities with APM.