Programme Management SIG AGM event - Thursday 21st June 2012
Report by Jim Dale (SIG Secretary)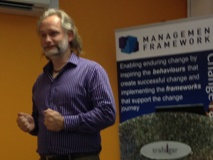 The latest ProgM SIG meeting combined the Annual General Meeting with an inspirational and thought provoking presentation from our guest speaker, Paul Major, the MD of the Management Framework.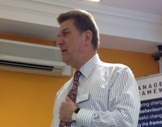 During the AGM Adrian Pyne (SIG Chair) set out many of the achievements of the SIG in his end of year report. The presentation is available here.
During the second part of the AGM the Secretary confirmed the Committee nominations and appointments for 2012/13, as follows:

Programme Management SIG committee members:
Solomon Akrofi
John Chapman (Treasurer)
Jim Dale (Secretary)
Andrew Gray
Alan Macklin
Adrian Pyne (Chair)
Geoff Reiss (Honorary President)
Bob Thomas
Paul Major's excellent interactive multi media presentation, entitled "Safe Hands or Society's Change Makers" was the catalyst for a lively debate about the desired skills, aptitude and experience required of programme managers in the coming years. Will it be a 'safe pair of hands' provided by a qualified, competent and experienced programme manager or will we be compelled to employ the services of a more pragmatic, flexible, open minded individual who can envision and drive change?
Please click here to view or download a PDF version of Paul's presentation.
For further information about this event, please contact Jim Dale (SIG Secretary).