Project Management - we want you!
Project Management - we want you!

Rebekah Sammut, Ibis House

The Derby chapter of the Midlands branch pulled out all the stops to put on a very successful multi-speaker event on Thursday 10th February at Nottingham Trent University.
The presentation was specifically constructed to reach out to students, graduates and those new to project management and, to ensure they were afforded variation throughout the evening, speakers from four different organisations were invited to present.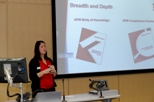 Rebekah Sammut from APM Ibis House opened the evening with an excellent overview of the APM, 5 Dimensions, Branches, Specific Interest Groups, qualifications and benefits of membership. To add to the diverse nature of the evening, Alistair OReilly, Chairman of the Chartered Institute of Buildings (CIOB) Novis committee described the benefits to young members of joining CIOB. This provided an interesting contrast with APM focused on one specific discipline across many industries and CIOB focused on one industry with many different disciplines.

During a short break between presentations, those new to the profession took the opportunity of networking with the speakers and experienced professionals and much interest was shown in what it takes to be a project manager.

From a different prospective, Charlie Ferguson and Steve Kwok of Rolls-Royce gave in detail the project they had to run as graduates in which they undertook the challenge to create a sustainable and authentic educational venue from the mesolithic era. The account of the event that took place at the Wildfowl and Wetlands Trust, Slimbridge gave the audience a very effective insight into the practicalities and considerations of running a project in the real world. Finally, Anja Feegel of Turner and Townsend shared some insights into various aspects of her career and gave her personal opinion of what it means to be a project manager.

Overall, a very enjoyable evening which was much appreciated by all the delegates.