RGU students win Scottish project challenge
A team of MSc Project Management students from Robert Gordon University (RGU) have triumphed at the Association for Project Managements (APM) annual Scottish Project Challenge, which was kindly sponsored by BAE Systems.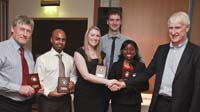 The team of five RGU students (pictured), Abu Hussain (29), Dani McCarthy (22), Morton Park (21), Samuel Slesser (29) and Yemisi Komolafe (27), emerged victorious after completing their final project challenge, raising 1,678.92 for the Grampian Autistic Society (GAS).
The students were one of four shortlisted teams for the finals in Glasgow, and faced tough competition in the last stages of the challenge from fellow finalists at Herriot Watt University, Selex Galileo and Wood Group.
Prior to the concluding event, each finalist team was required to prepare and deliver a project of their choice to raise money for their chosen charity, utilising core project management skills. They had approximately eight weeks to complete their project before presenting them, from planning and delivery through to production of a five minute video and group presentation, to a panel of judges and audience who voted for the winning presentation.
Abu Hussain, Project Manager of the RGU team reflected: Taking part in the challenge has been a huge commitment and we have put in a lot of hard work in addition to our course studies over the last five months. The challenge gave us a great opportunity to practice and implement the theories we were learning from the MSc Project Management. The challenge proved that project management methodologies can be incorporated into any area of business, including charity based events.
Chris Gordon, Manager of last years winning Wood Group team and APM Aberdeen Committee member said: The challenge is an excellent way to develop and practice project management theory in a real environment whilst being mentored by experienced project professionals. The competition was extremely tough this year and all the finalist teams were strong candidates but RGU were the deserving winners.
Visit RGUs website to find out more information on an MSc in Project Management.
Photography: Mike Glendinning