Royal Mail enhances project professionalism company-wide
Royal Mail is awarded APM Corporate Accreditation for its Royal Mail Operations Programme Team as the organisation enhances project professionalism across the company.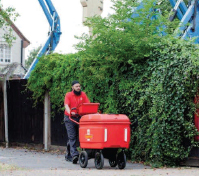 Since 2008, Royal Mail has been undergoing a major transformation programme that has covered every aspect of its operations including collections, processing, logistics, sorting and delivery.
The transformation programme has impacted on every one of the 140,000-plus workforce who serve the 29 million addresses across the UK and Northern Ireland whilst enabling Royal Mail to deliver letters and parcels more efficiently.
Royal Mail has demonstrated a determined and protracted drive to raise the bar for programme and project delivery and to build capability and resilience in this important area of business change, with its operations programme team.
Ian Jones operations transformation programme director at Royal Mail said: The scale and complexity of this change has been unprecedented in the history of Royal Mail and is recognised as one of the largest change management programmes of its kind in Europe.
With an investment portfolio of 3 billion, and with over 1,100 project and programme personnel supporting the change at its peak, Royal Mail has harnessed this resource effectively in order to modernise their core operation.
From the outset, Ian identified two key ingredients to a successful transformation journey - robust governance with sponsorship from the top of the organisation, along with an enhanced level of project professionalism across the project and programme management (PPM) community.
His commitment was not only to deliver a programme of unprecedented change, but to also create a lasting and sustainable PPM capability to satisfy the future change agenda for the company.

Ian added: My team was involved with APM from the outset of our journey. Quite deliberately and against clear objectives, we gradually increased the PPM communitys exposure to APM, including the introduction of APMs suite of professional qualifications, APM events and corporate membership for the team.
Ian takes great pride in the corporate accreditation APM has awarded Royal Mail Operations recently: It acknowledges the growth in people development and project management capability across the company over recent years, as well as providing a positive legacy on which the professionalism and capability of the PPM community in Royal Mail can continue to grow.
Royal Mail is the largest letters and parcels delivery company in the UK, licenced by the government to provide a universal service from over 205,000 collection points at post offices, post boxes and businesses and to over 29 million addresses six day a week. Royal Mail group is the second largest employer in the UK.