School engagement scheme to inspire next generation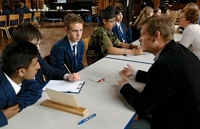 This week saw the launch of a brand new initiative that aims to inspire school children to consider a future career in project management.
APM is working with Inspiring the Future on a school engagement programme that will see volunteers across all sectors go into schools and colleges to raise awareness of the profession amongst the future generation of project professionals.
Everyone from senior executives with a wealth of knowledge and experience to recent graduates and school leavers with an inspirational story to tell are encouraged to sign up to the programme.
Utilising Inspiring the Future's well-established network of schools and colleges makes it easy for a volunteer to find an opportunity near their home or place of work. This may range from taking part in a careers' fair to an interactive session with a room of school children.
Naturally being receptive and inquisitive, young people are keen to hear others talk about their jobs, careers and the education routes they took. This will help them to learn more about project management and make informed choices about their future.
This scheme is crucial in developing the talent pool to ensure a skilled workforce in the future and vital to upholding project management as a profession of first choice.
Through real life experiences and helpful teaching resources volunteers are able to bring learning to life and demonstrate how essential project management is throughout society and across industry.
This is yet another example of how APM is creating new pathways into the profession following the launch of the Higher Apprenticeship in Project Management. This joint scheme with Skills CFA has won the backing of many of the UK's leading employers, including Rolls Royce and BAE Systems, and aims to create 775 Higher Apprenticeships by September 2016.
By APM continuing to invest in the project professionals of the future at such an early stage in their life is further commitment to the vision of creating a world where all projects succeed.
Find out more information about the school engagement programme and how you can register as a volunteer.
Schools engagement scheme is just one example of how volunteers can engage with the project management community. Discover other volunteering opportunities with APM that enable you to share your knowledge, experience and enthusiasm with others.