Seventh SWWE Project Management Challenge Competition: Finals and Awards Night 2020/21
On the evening of 6 May 2021, around 65 excited sponsors, customers, mentors and team members attended the seventh South Wales and West of England (SWWE) Project Management Challenge Finals and Awards Night with four down-selected teams competing for the Winner's trophy.
The event was held virtually over GoToMeeting and at the end of the night after four remarkable presentations, the Winners trophy was awarded to Team Flourish from Atkins who are based in Bristol. Team Flourish delivered a project to their chosen charity, Brainwave. The original objective of the project was to deliver a Whole Family Support Mechanism to Brainwave by providing a digital platform to increase engagement with existing and prospective users of their service. However, the results from an end-user survey considering the impacts of COVID-19 led to a review of scope and the consequent decision to change from the WFSM to a Digital Brochure. Team Flourish successfully delivered the Digital Brochure to Brainwave within the revised timeframe and project deadlines using their robust change management process. Their charity, Brainwave, said 'We have really enjoyed working with Team Flourish over the past few months. They worked well together as a team and communicated well with us throughout the project. The third lockdown meant that we could not go ahead with the original goals of the project. Despite this, the team were very adaptable and worked with us to find a solution and we are extremely pleased with the digital brochure. This will make a huge difference to the charity.' Brainwave is a charity that exists to help children with disabilities achieve greater independence by aiming to improve their mobility, communication skills and learning potential through a range of specialist therapies, the children they work with have a range of conditions including autism, cerebral palsy and genetic disorders such as Down syndrome.
Winners: Team Flourish, Atkins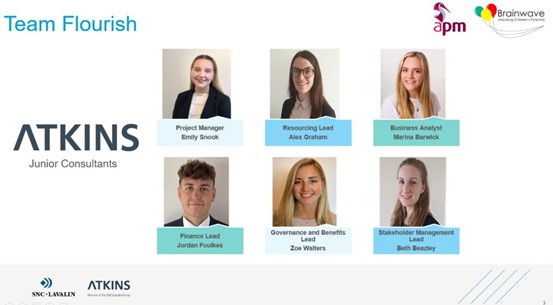 The other Winners award of the evening went to the combined team of South Gloucestershire and Stroud College (SGS) and Babcock International, Team Balloon Race, They won the Best Storyboard award for delivering a project to their customer, A Sibling's Wish, that focused on the development of an online virtual balloon race fundraising event.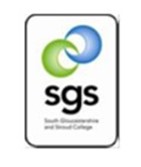 The standard of the presentations on the night was, yet again, astonishing. All of the eight teams competing in this year's competition have obviously worked extremely hard and have gained lots of valuable experience and knowledge. All teams were asked to deliver outputs and benefits to deserving projects across the community and, importantly, were able to demonstrate and develop their own professional project management competences, understand critical success factors, develop their own personal behaviours and learn from their mistakes, as well as get a taste of what it feels like to be part of an integrated team delivering a very real project.
The other finalists competing in the competition were; Team BIG Move from Babcock, who worked with the charity 'CADDT Development Trust' to help develop support in the Cornelly community in South Wales; Team DRDL from Babcock, who worked with their charity 'ODILS (Open Doors International Language School) Learning Foundation' to develop language skills of residents in the community and Team IKB from Frazer Nash Consulting who worked with their charity 'Freewheelers EVS Blood Bikes'.
The runners up who also competed in the Best Storyboard competition were; Frazer Nash Consulting Team AltruAdvocate who worked with their charity 'Forest of Avon Trust' to create an options appraisal for the provision of a supplier for the set up and configuration of an online tree planting hub; Team T cubed from Turner and Townsend working with their charity 'Action for Children' to deliver a venue selection, a network pursuit plan and a marketing plan for the Never Mind the Business event; Team Keyn to Succeed from Babcock who worked with their charity 'We remember Submariners' to create a charity RACI diagram, a risk register and organised the governance process grants as well as building a five year business plan strategy and finally Team Balloon Race, a joint team from SGS and Babcock who worked with their charity 'A Siblings Wish' to produce an online virtual fundraising event.
The Project Board consisting of leader and Branch co-chair Bruce Phillips, Branch co-chair Martin Gosden, Newcomers representative Paul Johnson, South Wales Chapter Chair Allan Reid, John Bone Senior Lecturer and Mark Townley independent consultant, managed three key assessment stages:
Provision of a project plan in December 2020 that identified smart outputs and benefits to be delivered, associated resources, costs and key risks;

Provision of a final report in March 2021 which demonstrated how the teams delivered the project outputs and benefits defined in the original project plan using a range of competences defined in the APM BoK; and

The delivery of a 15 minutes presentation at the Awards and Finals Night.
Bruce Phillips, the SWWE Branch co-chair who managed the competition overall, said "The project board was unanimous in its praise for the significant effort shown by all entries in the SWWE branch's seventh and very successful PM Challenge competition. Recognising the current strange circumstances that we all find ourselves in and the associated challenges that this inevitably brings, it is astonishing to see such a high standard from such young professionals and that their outputs are actually being used for very worthy causes indeed. Whilst winning the competition is 'icing on the cake' every member of every team is a winner as the competition is all about individual and collective learning and development. Every single member of each team should be justifiably proud of their achievements in delivering real benefit to the wider community and, equally as important, the development of their personal and professional competence for their future careers in the project profession. I would urge you all to keep that thought at the front of your mind and to build upon these experiences – both in terms of success and in failure – as you develop your careers further."

There was one other award – a 'special commendation' award - which went to Team Balloon Race, a combined team from South Gloucestershire and Stroud College (SGS) and Babcock International, along with their chosen charity, A Sibling's Wish, who supply individual bespoke memory boxes and 'Harvey' bears to children who have lost a sibling. Team Balloon Race delivered their project to a very pleased charity who were delighted with the outcomes. The project consisted of an entirely virtual team where the members had met just once before the Launch Night last October and due to COVID-19, did not meet with each other or the Charity at any point during the project. The team had to adapt to this new way of working and deliver the project entirely remotely. In addition to that, there were only two team members in the team.
All participating teams, mentors, sponsors, corporate organisations, charities and supporters were thanked and congratulated on their excellent contributions towards another successful Challenge competition which would simply not be possible without their support and motivation. The SWWE Challenge competition has really blossomed over its seven years existence which has been fundamentally achieved through both the sustained contribution of our corporate communities in the South West and also the realisation that having a career in the project profession can bring huge opportunities to our project professionals of tomorrow.
Bruce Phillips, Co-Chair South Wales and West of England Branch
APM Body of Knowledge 7th edition reference

Section
Description
3.3.6
Continuing professional development (CPD)