Sir Leigh Lewis and NAO director gain Honorary Fellowship
APM have awarded an Honorary Fellowship to Sir Leigh Lewis KCB and National Audit Office (NAO) director Tim Banfield. Both of whom will receive their certificates at the APM Awards on 1st November in London.
Sir Leigh Lewis career has spanned the public and private sectors including a role as group personnel director at Cable and Wireless plc in 1988. On returning to the Department of Employment in 1991, he became director of the International Division and later, in 1994, director of finance. He retained that post when the Department for Education and the Employment Department Group merged in July 1995.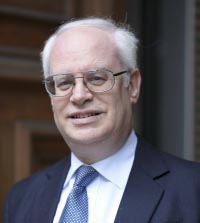 Sir Leigh Lewis (pictured right) was appointed as chief executive of the Employment Service and in January 2001 he was appointed chief executive of Jobcentre Plus, a new business of the Department for Work and Pensions (DWP). From April 2002 Jobcentre Plus brought together the Employment Service and those parts of the Benefits Agency which deal with customers of working age into a single focused organisation.
In February 2003 he was appointed to the Home Office as Permanent Secretary for Crime, Policing, Counter-Terrorism and Delivery, before returning to DWP as Permanent Secretary in 2005. Under his leadership, DWP demonstrated its commitment to the highest standards of project management professional development by way of its Professional Capability Improvement Programme. DWP was awarded APM Corporate Accreditation in October 2010. Sir Leigh Lewis was personally presented with the APM Corporate Accreditation certificate by Sir Gus ODonnell, Head of the Home Civil Service and Cabinet Secretary.
DWP is the largest public service delivery department in the UK, responsible for welfare and pension policy and a key player in tackling child poverty, serving over 20 million customers. The department has a long history of a strong project management culture, with DWPs Programme and Project Management (PPM) professional community engaged in the delivery of policy and strategic business change through a portfolio of often complex and high profile programmes and projects. Sir Leigh Lewis is generally identified as an exemplar of the intelligent client, and recognised as one of the few senior civil servants who can evidence hands-on private sector experience. Sir Leighs public championing of project management at DWP merits the highest level recognition by APM, acknowledging his success in introducing project management into a specific area of application and making it work.
The departments relationship with APM was further evidenced by its hosting a meeting of the APM Board in May 2010. The Board was provided with an enlightening presentation on the 300 million DWP Change Programme, an ambitious programme of welfare and pension reform, which had already achieved savings of over 150 million, with more to come. The DWP PPM community has 8,700 members who have chosen programme and project management as their primary profession, and accredited APM practitioners make up 30% - 50% of this community.
Following retirement from the Civil Service in 2010, Sir Leigh Lewis became Chair of the Board of Trustees of Broadway, a homelessness charity which works to support people who are living rough on the streets in London.
Tim Banfield joined the NAO in 1988 having previously worked in local government. For most of the last 20 years Tim has worked in the part of the NAO examining defence value for money issues and has contributed to a wide range of reports on defence procurement and equipment related issues. He took up his current position as director in February 1999 and is responsible for the production of a number of published reports each year examining the value for money achieved from defence acquisition along with a range of other outputs. Tim has also been responsible for the National Audit Offices work on the Millennium Dome and Overseas Affairs. In 2009 Tim was appointed Lead for the cross cutting Cost Effective Delivery theme. He has had a number of articles published in defence journals and lectures on a range of defence courses.
Tims work at the NAO has led him to think beyond the usual remit of an accountant. He has been responsible for a series of value for money studies, but is very much concerned about the ways in which the discipline of project management is used. He was one of the first people to draw attention to the Conspiracy of Optimism and how it operates in the area of defence projects. His research has enabled him and his team to produce The Little Blue Book in December 2011, more properly called Initiating Successful Projects. This takes lessons from a series of projects and puts them into a format that may be used by those starting on major projects.
Tim is active in the research world and is taking part in an initiative at Ashridge to explore issues of complexity in projects moving beyond the field of defence. He is generous with his time and has often addressed APM Branch meetings as well as appearing at the APM Conference (in video left). His wisdom is much appreciated beyond the confines of his office and his speaking engagements have included many overseas conferences.
Tim is currently a pioneer, being one of the first cohort to undertake the Major Projects Leadership Programme with Sad Business School for the Major Projects Authority. The fact that he has been chosen for this honour reflects the esteem in which he is held by UK Government.
He has long been a supporter of APM and his appointment as an Honorary Fellow will reflect our gratitude and respect for his achievements.