SWWE Benefits management seminar
Delivering benefits is the primary reason why organisations undertake change and invest in programmes and projects. Identifying benefits, managing benefits and realising benefits is key to successful programme and project management.

Benefits management helps organisations to optimise their investment in change. This applies universally to all organisations. In today's world of globalisation, technology driven initiatives, and constant, unrelenting change, having a keen eye on managing the fundamental reasons for change is common sense and ultimately defends the business case or budget allocation.
The SWWE branch were very pleased to have worked with the APM benefits and value SIG to plan this one day seminar looking at all aspects of benefits management. This well attended event was held at BAWA, Filton, Bristol on 12 March 2019.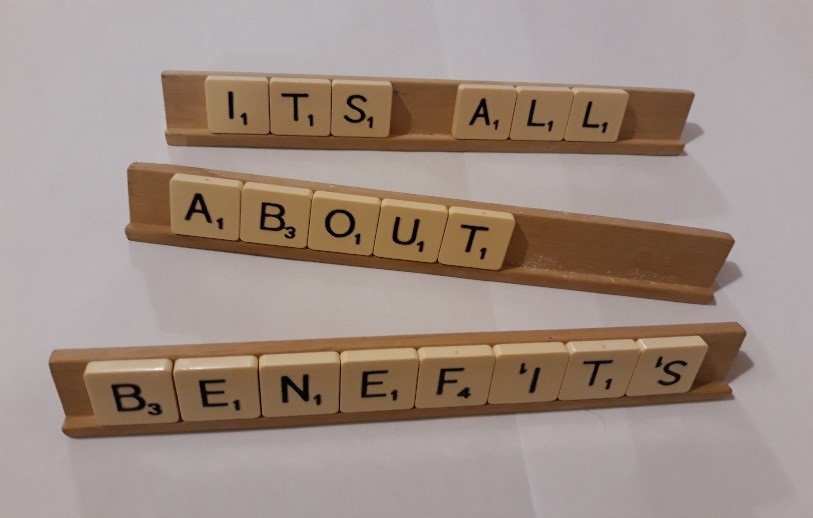 Bruce Phillips welcomed delegates to the seminar, and provided an overview of benefits and benefits management. He emphasised that benefits are not just about work, but can also be equally useful for decisions at home with family.
Kenn Dolan is a recognised expert in benefits realisation management, stakeholder engagement and portfolio, programme and project management. He provided the keynote address and introduction to benefits management. As a consultant, he described his role as that of helping others understand the value that is being created from their projects and programmes. Benefits realisation as an approach is not easy to embed in an organisation and needs time and investment.
He used an example of the Sydney Opera House, which was grossly over cost and time, but 45 years later, a study showed that it had created a social value of $6.2 Bn Australian Dollars, which more than compensated for the problems during the build. This illustrates that benefits are often not realised immediately. Benefits realisation is down to people and stakeholders, it is they that use project outputs to generate benefits. Organisational change must be managed effectively to be able to do this.
It is also important not to forget the wider benefits, beyond the project/programme, and the disbenefits. These can include economic, social, environmental, individual, organisational and societal.
Steven Covey (of 7 habits fame), talks about starting with the end in mind, i.e. what you want to achieve. So, start with the benefits you want on the RH side, and work backwards to identify the right projects to deliver the desired benefits. Never start with a 'solution' such as a new building. Benefits mapping is a useful tool to visualise what is needed and helps stakeholders understand what is to be done. Investment in the planning stage will help ensure required benefits are delivered.
It is also important to focus on the right benefits so that unintended consequences and disbenefits are avoided.
Martin Paver is the CEO of Managing Success Ltd. He discussed how advanced data analytics may transform benefits management. He explained what Artificial Intelligence, Machine Learning and Deep Learning are and how they can be used to analyse data to look for trends and patterns that would not be obvious to humans. Such analysis can move on from hindsight, the rear-view mirror, traditional view, to one of foresight, to be able to predict what may happen, or go wrong, i.e. as a lead indicator. This can be applied to benefits as well as other project perspectives. It can help reduce the effects of optimism bias which is the prevalent culture in many organisations. Stakeholders can be managed dynamically, rather than through traditional static analysis.
The key to this is lots of quality data. Many organisations do not have enough data. Martin talked about the concept of data trusts, where organisations share data in a safe environment under the control of an independent body.
The exhaust plume of data from projects and programmes could be analysed to leverage the nuggets of patterns and predictive insights to improve the ability to deliver successful projects and better realise the desired benefits.
Claire Dellar is a benefits expert and an entertaining and educating speaker who has a passion for benefits realisation. She ran an interactive workshop using the Dellar Success Case Tool. Delegates on each table were asked to work together on a 'problem' that one of them had at work using a 6-box grid which asked a number of questions. The output of the exercise could be used as the foundation of a business case for a project to deliver required benefits.
This started with thinking about your priorities: vision, objectives, drivers, which helped set the scope. Then about what is stopping you: the business need, the problem, the opportunity. Next, how do you identify what success looks like: the immediate effects, knock on effects, different perspectives. Followed by what will have to change, what will be different: BAU, new capabilities, future state. Then What I need to do: task list, gap analysis, project plan, stakeholder engagement and finally, why have we not done it already? : blockers, issues, cannot say, there is no funding – because it will be due to not having secured funding yet, or maybe insufficient priority.
This is an iterative process, which can be used for options analysis to support drafting a business case and option selection. Different boxes can be given to different stakeholder groups, and the views shared, which promotes dialogue and better decision making. The main advantage is that it deliberates thinking and stops the habit of jumping to conclusions.
Esther Gordon-Smith, from Highways England discussed the A303/Stonehenge road tunnel project as a case study to illustrate the approach taken to benefits management. The traditional benefits included reduced journey times, maintenance savings and fewer accidents, all of which can have costs associated with them. There are also wider economic benefits across the region. Disbenefits include loss of agriculture land and construction impacts. Non-traditional benefits include heritage, improved visitor experience, habitat connectivity and biodiversity increase.
They are looking at innovative ways to understand benefits and their intrinsic value. Evaluation of benefits is planned for the 1 and 5 year points against a measured baseline. A benefit steering group of key stakeholders oversees benefits and benefits realisation.
Her key lessons were to focus on the outcomes, not the outputs. A good example is where NASA spent a fortune on developing a space pen, where the Soviets just used a pencil! Understand what the customers and stakeholders' value, focus on people centred outcomes. Benefits realisation management helps the planning and running of projects better and more likely to deliver what is required.
Merv Wyeth and Neil White, both benefits and change experts, ran an interactive workshop for delegates on setting up a benefits management framework, using the menti.com interactive tool to ask delegates questions and get responses shown graphically in real time.
Neil discussed change management, organisational change drivers and how the inability to respond to change effectively often leads to a high risk of business failure. Transformational change is needed to address such risks, but is not easy to implement.
A benefits management framework can better help plan and implement transformation change. It has standardised rules, is an enabler for effective collection and aggregation of data, assists with interoperability and helps consolidate and mature capability.
There are 4 disciplined stages which offers a good opportunity to engage with stakeholders: Specification (the scope of what is included), development to meet the specific organisational environment and context, implementation and a sustainability / continuous improvement.
For any transformation change, accept there will be chaos as some point, and plan for it.
Ben Ganney, Professional Lead for Value and Continuous Improvement at Transport for London, discussed the approach around benefits and value management at TfL. He described the role of TfL in managing London's transport infrastructure. Benefits and value management is important as it enables TfL to clearly demonstrate value for money and improvements in services from the projects it invests in. This is increasingly important now that it is financially independent and no longer receives a Government grant.
Key challenges to effective benefits management include: focusing on delivering capability rather than benefit, it can become a cottage industry, interest can decline over time, social benefits are more difficult to measure , long time scales – who pays to monitor benefits realisation – it is essential to include this cost in the business case, ownership and responsibility for measuring benefits, and effective line if sight between project decisions and impact on benefits.
Ben described the TfL Project Management Pathway methodology and how benefit management was approached, which included specific intertest groups, a hand book, guidance, templates and tools, case studies and examples of good practice, and the life cycle. The project sponsor is ultimately responsible for benefits realisation.
The day concluded with a panel Q&A session, which generated a lot of questions and discussion.
Delegates left the day with a much better understanding of benefits management, the challenges to be overcome, some useful tools and some excellent examples of good practice, hints and tips to try back at work.
A copy of the slides are on the APM website. A photograph of the speakers taken during the very successful day is also shown below.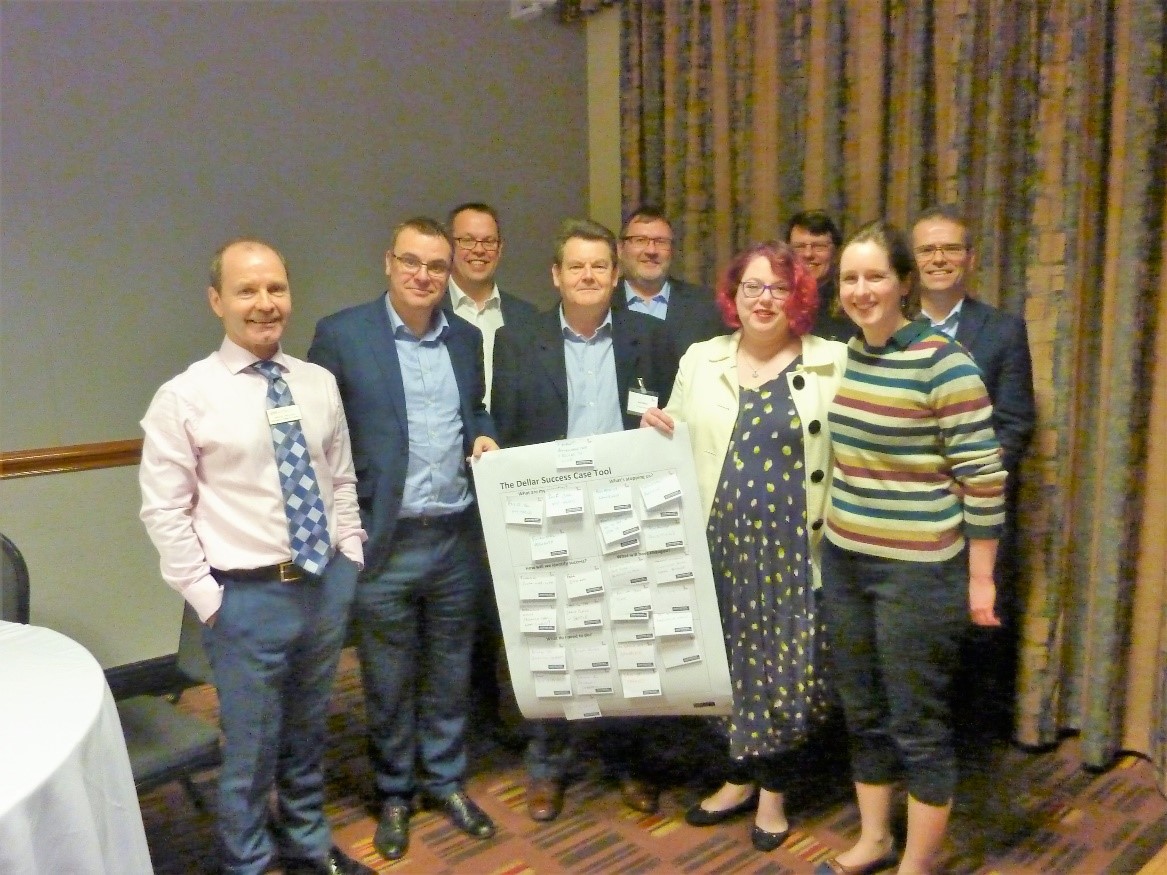 Martin Gosden
SWWE Branch Chairman