The APM Benefits Summit 2016: presentations, case studies and workshops synopses
The APM Benefits Management SIG  Benefits Summit 2016 was held on Thursday 23rd June in London, with support from: Enabling Change, Programme Management, PMO and Value Management SIGs. 
With a theme of supporting the "value for money" view on project success we are excited to announce the following presentation topics and synopses that the Summit covered and also the links to their slides which the presenters have kindly made available for viewing.
Presentation: Delivering major projects in government

In January of this year, the NAO published a progress report on the delivery of major projects in government focussing on the 149 projects and programmes that make up the Government Major Projects portfolio. We wanted to assess whether delivery performance had improved since we last looked at the Portfolio but concluded that it was difficult to tell without consistent and reliable measures of project success. We found that the time and cost information wasn't sufficiently robust and there was no systematic monitoring of whether a project's benefits had been achieved.   The favoured measure of project performance in government is delivery confidence based on a traffic light approach which raises its own issues. 
Presentation: Evidencing the benefits of meteorological services
In the summer of 2014 the Met Office submitted a Business Case to Treasury requesting a £97m investment for a new supercomputer. The business case was supported by 6 exemplar socio-economic benefit case studies which estimated an additional benefit to the UK economy of £2bn over 5 years. These benefits are all benefits realisable by customers – they are external benefits, beyond the corporate key performance indicators of the Met Office.  The envisaged benefit chain is that the additional supercomputer capacity will enable improved weather and climate services which will enable customers to make better business decisions thereby reducing their costs or improving their efficiency.  

The exemplar case studies used three different methods to quantify such benefits.  However, with the new supercomputer installed, work is beginning to evidence the actual realisation of these external benefits but is requiring new quantification methods - with the support of customers! 
Case study: Network Rail ORBIS programme benefit realisation
 
Offering Rail Better Information Services (ORBIS) is a £350m transformation programme with a direct impact on over 15,000 staff. The programme is implementing new business processes and capability to bring about significant and sustainable improvements in safety and performance across the UK rail network whilst delivering financial efficiencies of £300m over 5 years.
ORBIS has executed a robust and highly successful benefits management approach, involving the business early on in developing benefits profiles, securing their commitment to a forecast and transitioning ownership of benefits realisation to ensure benefits are truly owned and sustained.
This presentation will provide a high level account of the approach and key lesson's learned. 
Case study: Modelling benefits at project, programme and portfolio level for EDF's nuclear generation fleet
BMT Hi-Q Sigma (HQS) utilised its core capabilities in Systems Engineering (SE) and Portfolio, Programme and Project Management (P3M) to model, map, quantify and profile benefits and their attribution across a portfolio of programmes and projects to underpin a major business case investment decision for EDF Generation. 
For only the third time in 30 years of operation, EDF was planning to change the fuel for its fleet of seven Advanced Gas-cooled Reactors (AGRs). BMT HQS worked with stakeholders to gain an understanding of the business context of the range of programmes and projects focussed on mitigating a series of interrelated fuel risks. We developed a system model to capture the complex interactions across the portfolio and provide a comprehensive understanding of the benefit profiles. This enabled EDF to make informed decisions on the targeting of its limited investment across the portfolio and the viability of individual projects and programmes.  
As a result, EDF could better manage its whole fuel portfolio as opposed to stand-alone projects and programmes which ultimately led them to prioritise their investment resulting in a saving of £30m, reducing pressure on the annual investment portfolio.
Case study: BRM: Challenges and lesson learnt at DVLA
The benefits assurance team at DVLA have worked hard to embed Benefits Realisation Management (BRM) into their organisation. This case study will reveal how top down leadership, along with bottom up buy in has helped to establish a culture whereby benefits are taken seriously by everyone. Suzanne Richards will explain how BRM has now become recognised as a joint responsibility requiring a joined up approach from all other areas in the organisation. This starts by identifying and engaging the right stakeholders, ensuring the alignment with strategy and objectives, proactively managing the realisation of benefits and enabling continuous nurturing and adaptation. Suzanne will share the successes at  DVLA along with the inherent challenges and conflicts, explaining how the organisation continues to improve its approach and learn from others.
Highways England operates, maintains and improves England's motorways and major A roads. The IT Directorate came to Wovex to help them to manage change and investment in a more benefits-led and efficient way.
This is not just about maps or benefit measures but the reality of supporting a growing and intensive operation with practical solutions. It is about supporting people of all abilities to be successful.
Trevor will provide insights into what the reality of benefits management can mean for a PMO and wider organisation. Also, why this reality must be flexible and benefits focused. 
Presentation: Outcome relationship models
Ned will start his presentation by describing some key approaches to mapping within benefits management, international development, management of value and strategy creation. Having set the context with established approaches, he will then describe his implementation of Outcome Relationship Models (ORMs) - a novel technique for outcome mapping and analysis that builds on existing methods - to be a very practical programme management tool. He will use his experience of implementing the approach on large government programmes to describe a generic capability programme ORM, and explain its relevance for any "capability" programme. The aim of the talk is to demonstrate the value that this type of map can bring to a programme, and inspire delegates to have a go at producing one when they return to their own initiatives, requiring no more than normal office tools. 
Workshop 1: Addressing the Common Challenges of Benefits Realisation Management
Embedding benefits realisation management within an organization can often seem difficult. Lack of buy in, lack of understanding and lack of resources means that benefits practitioners may often feel like the least popular person at the PPM party!
The aim of this interactive workshop is to demystify the common challenges we all face trying to establish and embed good benefits management approaches within our organisations.
Addressing key themes such as introducing BRM into an organization, and project focus on time, cost, quality and appraisal, amongst others, this workshop will use audience participation to highlight the key challenges. It will also provide practical tools and tips that can be applied in any organization to help address these challenges. Most importantly it will make you realize that you are not alone on this BRM journey! 
Workshop 2: Benefits management - the change management dividend
Benefits Management processes and activities help assure that an organisations investment in change is aligned with its strategic goals and is wholly beneficial. But they can help in other often unseen or little understood ways.
Ultimately, the realisation of benefits requires change but unless the required change outcomes are achieved then the benefits will simply not happen. The required changes that must succeed come in various forms including:
1.    The development of enabling products; IT Systems, Tools, Infrastructure etc.
2.    Change to business management and processes; HR, Accounts, Sales & Marketing etc.
3.    People change; Values, Environment, Work Practices 
The Benefits Management process provides many opportunities to engage and implicate stakeholders in the change process and thereby reduce if not eliminate the risk of change failure. Neil and Parag will describe how Change Management needs can exploit the opportunities presented by the Benefits Management process.
-------------------------------------------------------------------------------------------------
We are not strangers to the many reasons why projects and programmes fail. These include:
•    Inappropriate use of technology
•    A failure to understand the need of the people that will use the changes
•    A failure to recognise that organisations must be successful in transitioning from their old ways of working to the new ways. 
Workshop 3: PMO and its value in supporting benefits realisation
Given the focus on benefits following the recent NAO report on the MPA, and the PMO SIG & Wellingtone State of Project Management UK survey, the focus for this session is the role a PMO plays in benefits management.
Projects and programmes are by their nature transitory; however, any large organisation should have a PMO structure that is permanent (even if a programme itself has a temporary PMO to support it) and can thus ensure tracking of benefits realisation long after the programme to deliver the enabling capability has closed and the delivery team has moved on to new assignments.
This workshop will explore the value of the PMO in Benefits Management & Realisation, and how it can best leverage its relationship and engagement strategies to enable the success of change activities, achieve the outcomes expected, and work as a value adding Business partner.
During the course of the 50 minutes together, we will explore and define key outcomes for the session including why PMOs find it difficult to embed Benefits Realisation into their role successfully, what are the key differentiators between those that do and don't, and what the key enablers could be to support PMOs aspiring to work in this area. 
Workshop 4: A practitioner's guide to evaluating benefits in business cases
At last year's Benefits Summit there was significant interest from delegates in the assessment of qualitative benefits and how these should be factored into major spending decisions.  In this workshop Alan and Stefan will demonstrate how the Five Case Model methodology provides useful tools to evaluate the benefits of different options for a spending proposal.  
This interactive session will demonstrate how these tools can be applied in practice with delegates participating in a real-time decision making process, using a case study example and sample spreadsheet cost model. 
The key 'take aways' will be understanding:
How to quantify and assess qualitative benefits (those that cannot be monetised), which can be critical to an investment and are often overlooked;
The assessment of 'trade-offs' between different options, taking into account costs, financial benefits and qualitative benefits;
The benefits of working collaboratively with key stakeholders to arrive at an agreed consensus.
Delegates attending this workshop will be completing the following exercise (please click on image below):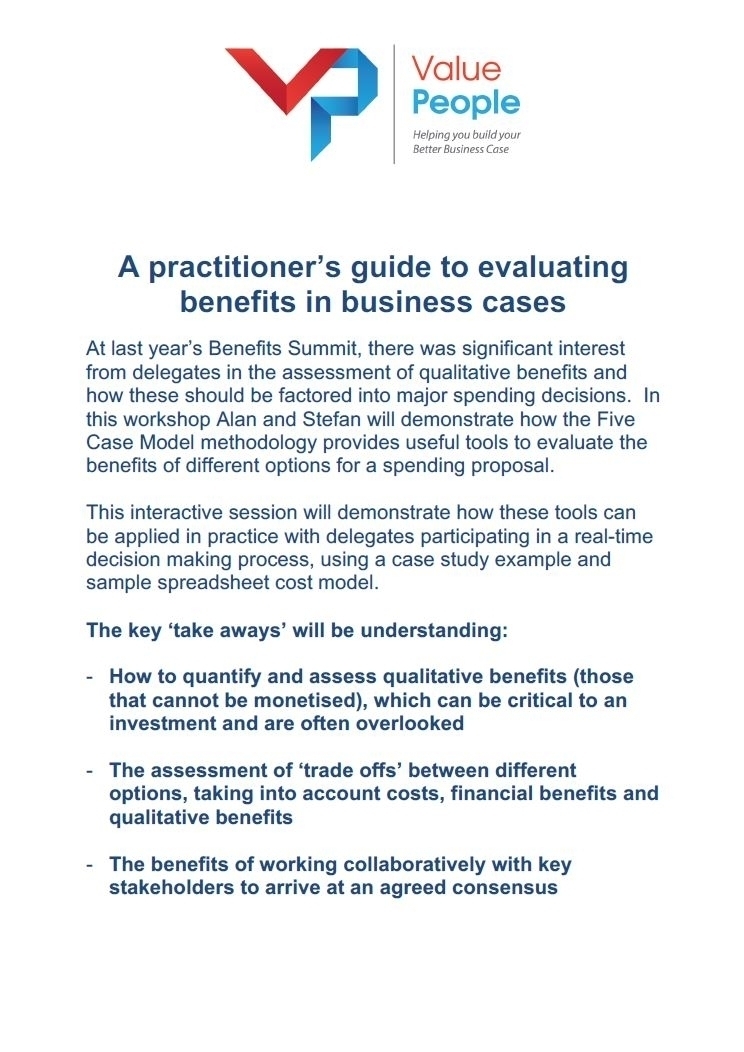 I don't mind admitting that sometimes I find benefits management a bit complicated and often think "yeah, but..."
Do you?
When I started out in this field some 10 years ago I was very excited. I had some training and, working within a PMO, I was ready to help all these projects improve their delivery of benefits because we had very little understanding of the benefits of the considerable investment of time and money.
So I tried to apply it. I struggled and floundered and learnt. Over the years I have tested, learnt and adapted again and again.
The one constant in all the organisations that I have worked in - whatever the bigger grander complicated context it was positioned in - was the application of the core benefits management process: identify the benefits, define them, plan for them and realise them.
Over the years I think I have learnt a lot about this core process.
So, why are you here? If you do want to focus in on this core process and pick up some hints and tips that I have learnt over the years than this workshop could be for you.
Workshop 6: Measuring and reporting non-financial benefits using the social return on investment (SROI) framework
Business cases and benefits cases might be built on a few tangible, cash-releasing benefits and a whole lot of assertions.   Can anyone put an accurate value on these assertions and so make better investment/ dis-investment decisions?
The Social Return on Investment six stage framework distils out figures that stakeholders support and that can be challenged and repeated.  It helps with decision-making if circumstances change, and it helps all interested parties to see the same vision and so pull together through the hard times of the project.
Hugo has used the framework many times, including reports published and available on Amazon, and has retained investment when government policies change through the strong commitment of the stakeholders.  In this workshop Hugo will introduce the framework and give participants an opportunity to try it out for yourselves.  
Presentation: Benefits Management in an Agile World
Agile Project Management is arguably the leading IT project development methodology in use today. It is also becoming increasingly accepted that an Agile approach has potential applicability across all business units in a diverse range of industries. 
The traditional view that the benefits of a project or change initiative are realized after a project is complete, however Agile's incremental capability delivery approach encourages benefit owners to continuously focus on the value created with each deliverable, relative to the business case which supported the project investment.
The ongoing feedback from benefits focused stakeholders when combined with project delivery teams should allow a range of insightful performance-based Lead Indicators to be generated.
The audience will learn techniques for visualizing the link between project execution and strategic contribution that can be applied to both existing and emerging programs.